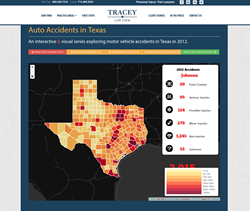 We're excited to be able to offer these resources to clients and the general community.
Houston, TX (PRWEB) May 01, 2014
As part of Tracey Law Firm's major push to provide more online personal injury resources to Texans, the firm has announced the launch of an interactive map that charts data for all automobile accidents in Texas.
The one-of-a-kind map graphs the most dangerous and least dangerous days and times to drive, based off current data from the Texas Department of Transportation. Site users can also interact with the map to identify the rate of traffic accidents, including injuries and fatalities, for every county in Texas. All of the information is interactive and simple to use so viewers can find the information they want quickly and effectively. Updates from 2013 are expected to be incorporated into the design by Fall 2014.
This resource is part of Tracey Law Firm's commitment to provide more personal injury resources and services to the Houston area and beyond. It comes as part of the firm's major website relaunch, which will also features a more streamlined, user-friendly navigation, a greater social media presence and readily-accessible information about specific personal injury services, awards and media.
The new site officially went live in late March 2014. It can be accessed at http://www.traceylawfirm.com.
"We're excited to be able to offer these resources to clients and the general community," says Tracey Law Firm attorney and partner Shawn Fox. "Tracey Law Firm will continue to offer its award-winning services throughout the state, and seek even more ways to improve them. The new website will help us reach out to individuals and families suffering as the result of a car accident, work injury, medical malpractice, or other injury or death resulting from another's negligence."
About Tracey Law Firm
The award-winning team at Tracey Law Firm in Houston, Texas, has settled a wide range of personal injury cases, including the first ever landmark case that linked birth injuries with Paxil. Founding attorney Sean Tracey has received Super Lawyer honors for 10 years running, and holds a rare "Superb" ranking from Avvo. Partner Shawn Fox has received three consecutive Texas Rising Star honors since 2011. Tracey Law Firm's services cover personal injuries resulting from accidents, premises liability, dangerous pharmaceuticals, defective medical devices, medical malpractice, and other incidents of negligence. For further information, visit Tracey Law Firm online at http://www.traceylawfirm.com.