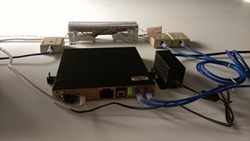 I'm happy to report that the MPLS solution . . . did indeed solve the very tricky communication issues with our ERP system that we were having.
Seattle, WA (PRWEB) April 30, 2014
Caisson Technologies, a Seattle-based telecommunications agency providing SMBs with a better way to buy phone and internet services, helped TAPHANDLES, a Seattle based fully integrated beer marketing company, quickly resolve a latency problem associated with their remote office in Chicago accessing a ERP server in Seattle. When they moved into their new office space they were planning for growth by switching from T1 Internet Access to newer Ethernet over Copper (EoC) services that are available in downtown Seattle. EoC is a state of the art Dedicated Internet Access (DIA) technology delivering business customers with economically scalable DIA with speeds of 5 Mbps to 60 Mbps.
Over the last few years, TAPHANDLES operation has doubled and tripled in size. Having a flexible telecom solution to meet that growth has been helpful to avoid slow internet speeds that can erode employee productivity.
Mr. Paul Fichter, founder and CEO of TAPHANDLES, has been working with Mr. Brian Wade, President and Lead Consultant for Caisson Technologies, since 2001.
"Back when TAPHANDLES was just a few employees in a small warehouse in Kent we just had 4 phone lines and DSL. Brian walked in and saved us a bunch of money on our telecom and improved our internet speed. Now we are 60+ employees and our telecom needs are much more complex, it's really nice to be able to work with the same trusted partner, and Brian continues to save us money and improve our internet speed," said Mr. Fichter.
"TAPHANDLES has really been an exciting client to work with over the years. They have been continually growing, moving, and adding locations. Keeping their telecom expenditures both efficient and effective has been our objective", said Mr. Wade. "A well designed, implemented, and managed telecom solution can free up cash flow to be allocated to more profitable areas in their company."
Ethernet over Copper (EoC) is a terrific bandwidth alternative for companies who's operations demand Dedicated Internet but don't need the 100 Mb commit cost of fiber service.
"Most of our clients who use T1s or DSL to connect to the Internet have or are transitioning to EoC or EoF services if they can qualify for them," says Mr. Wade.
Internet access has become more and more mission critical for all companies including the small and medium sized firms. With the heavy adoption of "on prem" and cloud based business applications by the SMB segment the need to cost effective symmetrical bandwidth technologies like EoC has never been greater.
"I'm happy to report that the MPLS solution to Chicago, Portland, and Woodinville did indeed solve the very tricky communication issues with our ERP system that we were having. Also, the EoC upgrade at our HQ gave us the overhead we needed to run offsite replication jobs on a 24/7 basis without impacting employee productivity. Your assistance in helping us to understand the technology and our options is yet another reason I find your service so valuable!" - Dave Kaplan, Director of Operations, TAPHANDLES
If your business is growing rapidly or if it has been a few years since you had a telecom expert evaluate your current telecom solution you could more than likely save thousands of dollars and significantly improve your productivity by working with a telecom broker, like Caisson Technologies.
You can contact Caisson Technologies by going to http://www.caissontechnologies.com or by calling (206)420-0140.