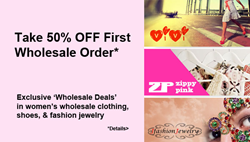 We already get a lot fans for '50% Off Wholesale Deals' since it is true 50% off on top of final discounted price.
New York, NY (PRWEB) April 30, 2014
Fast Fashion Wholesale Magazine announces a new way wholesale buyers can get the promotions they deserve. Buyers can vote or like the manufacturer or wholesaler they'd like to buy with 50% off the first order. Wholesale fashion customers can also check each recommended manufacturer's website before voting. The magazine will contact the most voted for or liked manufacturer, which will become their next '50% Off Wholesale Deal' merchant.
Many retailers or wholesale fashion customers are already fans of '50% Off Wholesale Deal'. They have enjoyed generous discounts, while participating merchants have gained many loyal customers. It is a win-win for both. Fast Fashion Magazine's process is the best vote collaboration initiative in marketing.
The more retailers that show interest in fashion products, the more likely manufacturers will give the requested promotions to the retailers. As more retailers participate in the vote, manufacturers will offer more promotions. It is therefore important to vote for or like participating manufacturers. Doing so will increase wholesale buyers' chances of saving on wholesale fashion items.
Buyers can share their interest on Facebook, Twitter, Pinterest, and other social media sites. Deals will be first come, first serve. There may be a limited number of deals. In this case, Fast Fashion Magazine will send private invitations to those first in line, before releasing 'Wholesale Deals' to the public. Thus, an incentive for acting quickly and placing wholesale fashion buyers vote or like for their favorite manufacturer or online wholesaler.
Wholesale clothing customers will save up to 50% on their first wholesale order per each manufacturer.
"We already get a lot fans for '50% Off Wholesale Deals' since it is true 50% off on top of final discounted price," said Richard McDowell, Marketing Manager for Fast Fashion Wholesale Magazine.
For more details, visit http://www.FastFashionMag.com.
About Fast Fashion Magazine
Fast Fashion Magazine is a premier source of B2B fashion and accessories online. Targeting wholesalers and retailers, it lists hot fashion products and trends and includes many informational articles and advice in various categories. The magazine will be circulated to up to 50,000 wholesalers and retailers.