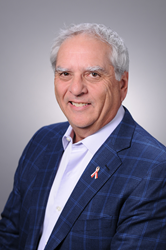 Gaithersburg, MD (PRWEB) April 30, 2014
Dr. Steven Rice introduces new dental implants techniques for Gaithersburg, MD patients who are tired of temporary solutions to the problem of missing permanent teeth. With the dental implant procedure Dr. Rice helps the patient return to the look and feel of natural teeth. Implant supported dentures for patients in Gaithersburg allow an entire replacement denture to be supported on dental implants for a new set of teeth following the simple implant procedures.
With the advanced technologies in dental implants available in Gaithersburg, MD the doctor can support the permanent denture, whether in the top or bottom of the mouth, with implants that act like natural teeth. The two basic types of implant supported dentures used by Dr. Rice are bar-retained dentures and ball-retained dentures.
Bar-retained dentures are secured in place using a metal bar that runs along the gum line. The bar is held in place by three or more dental implants that are surgically implanted in the gums. The ball-retained dentures, also known as stud-attachment dentures, works by means of a ball-type structure on top of the dental implants that are placed surgically in the gums. The dentures have corresponding sockets that snap together to hold the denture in place. The ball-and-socket type design is known for stability and security, allowing the user to enjoy their favorite foods again with no concern for slipping, sliding dentures. Whichever style of dentures you prefer, they both begin with the dental implant procedure that allows Dr. Rice to have a stable base to build upon so that the dentures stay in place.
To learn more about the new options and possibilities for dental implants in Gaithersburg, MD, visit the Advanced Laser Gum Surgery - Institute of Washington on the web at http://www.advancedgumsurgery.com and call the office at (240) 747-7355 to get more details about the new dental implant procedure.
About the Doctor
Advanced Laser Gum Surgery- Institute of Washington is a periodontal practice offering patients personalized dental care in Rockville, Maryland since 1981. Dr. Steven N. Rice received a Doctor of Dental Surgery degree from the University Of Maryland School Of Dentistry. He continued his education as a General Practice Resident in the United States Army, where he was awarded a Medal of Commendation. He studied periodontics at the Medical College of Georgia and was recognized as a Diplomate of the American Board of Periodontology upon completion. Dr. Rice is part of one percent of dental professionals providing the LANAP® FDA cleared laser procedure for gum disease treatment. To learn more about Advanced Laser Gum Surgery Institute of Washington and their dental services visit their website at http://www.advancedgumsurgery.com and call (240) 747-7355.