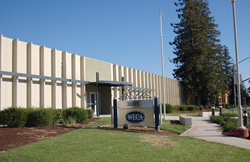 Rancho Cordova, CA (PRWEB) May 01, 2014
Western Electrical Contractors Association, Inc. (WECA) is proud to celebrate its 85th anniversary as a pioneering electrical contractors' trade association, steeped in a rich history of perseverance and achievement.
WECA was founded on April 9th, 1929 by eight member contractors and was named the Electrical Contractors and Dealer Association of Sacramento, which later became the Sacramento Electragists. Throughout these early years, WECA continued to evolve as a trade association by establishing a board of directors, acquiring managers, incorporating, and chartering as the Sacramento Valley Chapter of the National NECA organization in the 1940s. By the late 1970s and 1980s, WECA's charter was under threat because the majority of their contractor members were non-union. WECA stood by its merit-shop members and persevered in the face of strike tactics and lawsuits aimed at forcing chapter members to resign. The lawsuits continued for nine years until the last one was settled in the 1990s, and WECA was formally named as the Western Electrical Contractors Association, Inc.
The 1990s and 2000s brought the association new opportunities for growth. In this current era, WECA has focused on establishing respected apprenticeship training programs and modern regional training facilities. WECA now offers federal- and state-approved Commercial, Residential, and Voice-Data-Video Apprenticeship programs, an Electrician Trainee certificate program, and Journeyman Continuing Education Programs. The association also produces curriculum packages for electrical training providers, and provides popular exam preparation classes for prospective electricians pursuing state certification in California.
Terry Seabury, Executive Director and CEO, explains of WECA's challenges and successes, "Winston Churchill said 'You have enemies? Good. That means you've stood up for something, sometime in your life.' The merit-shop community encounters certain special interest groups who disagree with our core beliefs that success should be rewarded, advancement should go to those who demonstrate competence, and public and private works should be awarded through a fair and open process." Seabury goes on, "It has been my pleasure to work with a group of contractors who have never shied from doing what is right and who have consistently 'stood up for something.' In California, WECA has marshaled resources to protect these values - often against an intractable array of foes. I am proud of the work of our contractors and staff and of the achievements of our students."
Today, WECA continues to proudly push forward with initiatives aimed at growing and adding value to contractor membership and advancing the merit-shop philosophy through government affairs efforts. WECA actively conducts outreach and trains California's current and future electrical workforce in its state-of-the-art lab, online, and classroom facilities in San Diego, Riverside, and at its Northern California headquarters in Rancho Cordova.