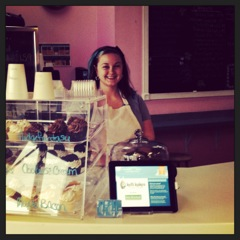 RewardMyWay is able to find a way to truly reward customers for their interest in us and continue to come back for more. - Kelli Beal, Owner of Kelli Kakes
Nashville, TN (PRWEB) May 04, 2014
Kelli Kakes is a family owned gourmet bakeshop located in Mount Juliet, Tennessee, originally created by Kelli Beal and her mother. They specialize in baked goods all made from scratch, from individually sold cupcakes to specially crafted masterpieces for any occasion!
Kelli has always had a passion for the arts and the freedom that comes along with it. Starting her career, Kelli was an EMT for 5 years, unfortunately feeling restricted in expressing herself. She was looking for a better way to spend her time doing what she is most passionate about, which is creating art. Coincidentally Kelli's mother was looking for a change in her life as well; so the brainstorming started flowing. Kelli specifically wanted to be able to effectively share her talents with the community, thus creating Kelli Kakes.
Kelli Kakes has recently partnered with RewardMyWay (RMW), a technology platform that allows merchants to increase customer visits through rewards and special offers. Merchants featured on RewardMyWay have customized loyalty plans that are unique to their businesses, marketed via social and mobile commerce tools that build brand exposure and provide real-time cash visibility into purchases. This is a way to entice consumers to come back to your specific business to build up their points and to be rewarded for doing so.
"RewardMyWay is able to find a way to truly reward customers for their interest in us and continue to come back for more," said Kelli Beal. Additionally, she stated, "also the RewardMyWay staff is friendly and goes above and beyond to ensure that my needs are met; which in turn makes me able to see to my customers needs."
Heather Williams, RewardMyWay's, Mobile Marketing Campaign Specialist states, "Kelli Kakes is innovative, fun, and has the best sweets in the area by far! I look forward to seeing and helping her business flourish!"