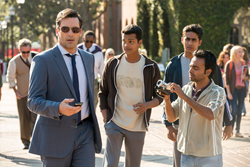 'Million Dollar Arm' is the most real and relatable Disney sports film yet.
Indianapolis, IN (PRWEB) April 30, 2014
Walt Disney Pictures has done it again. Based on a true story, "Million Dollar Arm" is the studio's latest inspiring sports drama to win the Truly Moving Picture Award.
"Disney delivers a fresh, 21st century take on the inspiring sports story genre with 'Million Dollar Arm,'" said Tim Irwin, Heartland Film's artistic director. "Beyond its quality filmmaking and uplifting message, 'Million Dollar Arm' casts a wide and inclusive international net, choosing to develop its Indian characters with depth and pathos instead of settling on conventional 'fish out of water' clichés. Moviegoers will be inspired by many relatable themes, including the balance of professional success and personal relationships, persevering in the face of failure and adversity, choosing right over wrong, and the overall triumph of the human spirit. Citing great acting performances all around, one Truly Moving Picture Award juror noted that 'Million Dollar Arm' is the most 'real and relatable Disney sports film yet.' Heartland Film is glad to honor 'Million Dollar Arm' with the Truly Moving Picture Award."
The Truly Moving Picture Award is a way Heartland Truly Moving Pictures honors entertaining films that do more than just entertain. Heartland bestows the award to approximately 15-20 theatrically-released films a year that inspire, educate and engage audiences and filmmakers alike. Submissions are received directly from studios and producers for consideration.
Based on a true story, sports agent J.B. Bernstein (Jon Hamm) finds that business has changed and things aren't going well for his career. In a last ditch effort to save his livelihood he concocts a scheme to find baseball's next great pitching ace. Hoping to find a young cricket pitcher he can turn into a major league baseball star, J.B. travels to India to produce a reality show competition called "The Million Dollar Arm." With the help of cantankerous but eagle-eyed retired baseball scout Ray Poitevint (Alan Arkin), he discovers Dinesh (played by Madhur Mittal from "Slumdog Millionaire") and Rinku (played by Suraj Sharma from "Life of Pi"), two 18-year-old boys who have no idea about playing baseball, yet have a knack for throwing a fastball. Hoping to sign them to major league contracts and make a quick buck, J.B. brings the boys home to America to train. While the Americans are definitely out of their element in India — the boys, who have never left their rural villages — are equally challenged when they come to the States. As the boys learn the finer points of baseball — J.B., with the help of his charming friend Brenda (Lake Bell) — learns valuable life lessons about teamwork, commitment and what it means to be a family.
Directed by Craig Gillespie from a screenplay written by Tom McCarthy, Walt Disney Pictures' drama "Million Dollar Arm" stars Jon Hamm, Aasif Mandvi, Suraj Sharma, Lake Bell, Madhur Mittal, Pitobash and Alan Arkin. The producers are Mark Ciardi, Gordon Gray and Joe Roth. The executive producers are Palak Patel, Kevin Hollaran, Bill Simmons and Connor Schell. The film will be released in the United States on May 16, 2014.
About Heartland Truly Moving Pictures
Heartland Truly Moving Pictures, a nonprofit arts organization, seeks to inspire filmmakers and audiences through the transformative power of film. Its flagship event, the Heartland Film Festival®, launched in 1991 and runs each October in Indianapolis, screening independent films from around the world. Each year, the Festival awards more than $115,000 in cash prizes and presents its Festival Awards to the top-judged submissions. Heartland has awarded more than $2.6 million to support filmmakers during the last 23 years. The organization's Truly Moving Picture Award was created to honor films released theatrically that align with Heartland's mission. By bestowing this award seal to honored films, the award allows studios and distributors to inform audiences of a film's transformative power and appeal. Heartland is also dedicated to cultivating youth, and thus created the Heartland Institute to provide innovative educational and outreach programs that enrich the minds and lives of youth and aspiring filmmakers. Heartland also shares inspiring films year-round in the community through the Heartland Roadshow. For more information, visit TrulyMovingPictures.org.