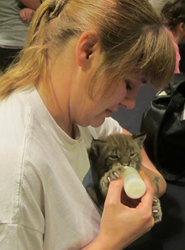 For more than five decades the FCF has been a leader in the care of wild felines and how to rear them for conservation education programs.
Washington,, D. C. (PRWEB) May 04, 2014
The Feline Conservation Federation (FCF) will teach its highly acclaimed Wild/Exotic Feline Husbandry Course and its Wildlife Conservation Educator's Course on Wednesday, June 18 at the Cottonwoods Resort and Suites in Scottsdale, Arizona. The two classes precede the FCF Convention which begins Thursday, June 19 and runs through Sunday, June 22. Courses can be attended in conjunction with the annual gathering or separately. FCF membership is not required.
The Basic Exotic/Wild Feline Husbandry Course aids feline caregivers at any level of experience, from novice to career zookeeper. Course instructor Mindy Stinner says, "Not only do attendees gain a wealth of information from the husbandry course materials, but also, from the participation of students, many of which have years of cat experience." The course covers topics as varied as natural history, regulations, training, feeding, and contingency plans.
The Wildlife Conservation Educator Course is taught by veteran educator, Debi Willoughby. Willoughby says, "The FCF course is designed to give students the tools necessary to become qualified professional wildlife educators specializing in feline species." The basics of how to book shows and promote a business are combined with more advanced topics, such as how to expand an existing wildlife education business and how to present effective conservation messages that engage, entertain, and capture the viewers' attention. Students are taught about the various licenses and requirements and how to chose and prepare animals for outreach ambassador rolls.
Classes start at 8:00 a.m. and run to 6:00 p.m. at the Cottonwoods Resort at 6160 North Scottsdale Road, Scottsdale, Arizona.
Registration can be made online and the $145 fee can be paid with PayPal. Students are fed lunch and receive a textbook to take home. Students that complete the course and pass the test receive a Certificate of Educational Achievement.
A thirty-minute Wild Cat Show will follow at 7:00 pm. This free presentation will include exotic kittens and facts about big and small cats in nature and in captivity. Cat lovers everywhere are welcome to attend and experience FCF's unique brand of "wild" encounters with nature's wondrous felines.
Lodging at Cottonwoods Resort is available for just $82 a night, breakfast included. Call 480-991-1414 and mention the FCF Convention to reserve lodging at this price.
The Feline Conservation Federation is a self-regulating society of exotic feline owners and handlers with an established group of professional members. FCF Executive director Lynn Culver says, "For more than five decades the FCF has been a leader in the care of wild felines and how to rear them for conservation education programs." FCF members hold important genetic resources that help conserve feline species and are a key resource of ambassador animals used to teach the public about wildlife conservation.