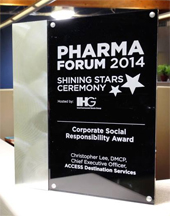 Giving back to our local communities is part of our core values at ACCESS.
San Diego, CA (PRWEB) May 02, 2014
ACCESS Destination Services was recently recognized as a recipient of the Shining Star Award for Corporate Social Responsibility at this year' s Pharma Forum 2014 in Orlando, Florida. This year marks the 10th anniversary of the Shining Star Award - which focuses on celebrating and recognizing the people and companies that are making a difference and demonstrating significant achievement in the life sciences meeting management industry, including Corporate Social Responsibility programs.
The award was presented to both ACCESS and long-time partner client Dräger for their collaborative work on their "Park Build in the Desert" CSR program.
"We literally built a park from the ground up," expressed ACCESS Account Director Stacey Crivello. The event took place at Sunshine Acres - a children's home in Phoenix, AZ - where ACCESS worked with almost 500 Dräger employees to transform an empty dirt lot into a 20,000 square foot park - complete with 18,000 square feet of grass, hand-built park benches, a walking path, and freshly planted trees and bushes. The team even had time to repaint a basketball court and skate park, all in less than 5 hours.
See video from the event here: http://bit.ly/1maPbrT
"Giving back to our local communities is part of our core values at ACCESS," stated ACCESS CEO, Chris Lee. "When producing CSR programs, our goal is to create an event that will have a lasting and meaningful effect on both the beneficiary and our client. It's an honor to be recognized for these efforts."
Founded in 1970, ACCESS Destination Services sets the standard for excellence in award-winning destination management services throughout North America and the world. Through global alliances with Pacific World and Amstar, ACCESS covers over 100 destinations throughout 30 countries. With worldwide reach and local expertise, ACCESS meets client objectives and exceeds expectations for corporate, incentive and association groups.