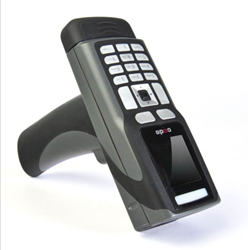 Founder Gary Moe commented,The ID Integration BarCodeOS software suite is game changer in the barcode scanner industry!
Mukilteo, Washington (PRWEB) May 02, 2014
ID Integration, Inc. will be introducing the industry's first innovative BarCodeOS software suite at the Army Aviation Mission Solutions Summit in Booth #1236 at the Gaylord Opryland Hotel May 4 – 6 in Nashville, Tennessee. This exclusive Quad-A exhibition engages military officials, IUID leaders, and other experts actively working on a variety of military specified applications all working together to achieve improved compliance, tracking, and streamlined asset management. The BarCodeOS software suite provides on-board software functionality that extends barcode scanner functionality and eliminates the need for more expensive middleware solutions or dedicated hardware delivering broader coverage of IUID compliance needs.
The BarCodeOS software suite provides cost-effective and adaptable solutions that increase productivity by extending the value of ID Integration's range of IUID scanners. Use of the BarCodeOS software suite web configuration tool makes set-up easy; saving time and money. This next-generation technology offers a modular software structure that delivers enhanced functionality, versatility, and ease of use adding significant value to selected scanner products. The built-in security features of the BarCodeOS software suite guard against potentially dangerous embedded barcode malware. With the introduction of this new solution, ID Integration is revolutionizing the productivity and effectiveness of MIL-STD-130 contractors working to achieve IUID compliance.
The BarCodeOS software suite delivers a modular set of applications that enhance a barcode reader's usefulness and effectiveness for nearly any application need. Currently, this technology is available as a basic install, advanced function suite, or as a customized app for a specific industry. This new technology provides an easy answer for end users searching for custom solutions as well as more general advanced features like parsing, filtering, and optical character recognition. The BarCodeOS software suite delivers an easy plug & play solution that greatly improves speed and accuracy for a broad range of inventive applications. Furthermore, switching between different operating modes is as simple as scanning a small selection of barcodes - eliminating the need for complicated end user programming.
With over 20 years of complex integration experience, ID Integration, Inc. is pleased to discuss visitor applications face-to-face in their booth, #1236, this May. This Army Aviation Mission Solutions Summit is a popular conference and exhibition for professionals working on innovation throughout the field of Army Aviation. For more information, interested individuals may wish to visit http://www.id-integration.com to learn more about their expansive range of identification solutions - from IUID labels to direct part marking, BarCodeOS software suite for simple IUID scanners, verifiers, custom integration solutions, and more. Learn more about this upcoming event, ID Integration's exhibit, and demonstrations by reaching ID Integration's team using their website's Contact Us form.