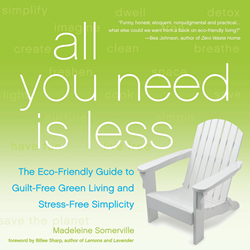 (PRWEB) May 01, 2014
Celebrate all the possibilities and gifts of motherhood this Mother's Day. Viva Editions moms share the secrets to a more inspired life, along with their own stories of motherhood that range from newborn infants to teenagers. From stay-at-home moms trying to make the house a little greener to full-career women, from spiritual seekers to writers and bloggers, these mothers share their experiences along with advice on everything from eco-living to spiritual enlightenment.
All You Need Is Less
The Eco-Friendly Guide to Guilt-Free Green Living and Stress-Free Simplicity
by Madeleine Somerville
Top eco-blogger and new parent Madeleine Somerville has gathered completely original ideas on how to save money and the planet, and have fun in the process, in All You Need Is Less.
Lemons and Lavender
The Eco Guide to Better Homekeeping
by Billee Sharp
Bursting with ways to downshift, simplify, preserve resources, and honor the planet, Lemons and Lavender will give readers tools to reclaim a purer, tastier, healthier and less expensive way of life.
Getting to 50/50
How Working Parents Can Have It All
by Sharon Meers and Joanna Strober
Sharon Meers and Joanna Strober are two working moms who believe that everyone wins when men are full parents and women have full careers. They know that families thrive not in spite of working mothers, but because of them.
Jump-Starting Boys
Help Your Reluctant Learner Find Success in School and Life
by Pam Withers and Cynthia Gill
Filled with reassurance and support, Jump-Starting Boys has heart-warming true stories, take-action checklists and over 200 helpful tips.
Everything I Needed to Know I Learned From My Six-Month-Old
Awakening To Unconditional Self-Love in Motherhood
by Kuwana Haulsey
Everything I Needed to Know I Learned from My Six-Month-Old fuses memoir, spirituality and self-development in a moving tribute to the lessons Kuwana's infant son taught her.
Imperfect Spirituality
Extraordinary Enlightenment for Ordinary People
by Polly Campbell
Pulling a raisin out of a two-year-old's nose probably wasn't on Buddha's path to enlightenment, but it was an aha! moment for author Polly Campbell. In Imperfect Spirituality, Campbell shows readers how to integrate those everyday moments with traditional spiritual techniques.
Viva Editions are books that inform, enlighten, and entertain. Viva books open hearts and minds. Viva authors are practical visionaries: people who offer deep wisdom in a hopeful and helpful manner.