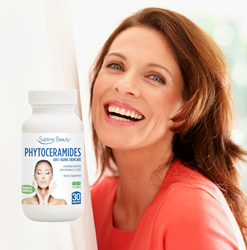 40% off today only on Amazon; Sublime Beauty offers its new anti-aging Phytoceramides plus a 6 page report to purchasers.
Seminole, FL (PRWEB) May 02, 2014
Fake a facelift? This is how Phytoceramides were described on a recent Dr. Oz show, and how dermatologists describe the effects of Phytoceramides.
Sublime Beauty® offers a 1 day only sale today on Amazon: 40% off with coupon code CERAMID4. All purchasers will receive a 6 page report about Phytoceramides by email.
Ceramides make up 40% of our skin, and they keep the skin plump, moist and protected. However, as we age, ceramides diminish and this is behind dryness, wrinkles and sagging of skin (along with loss of collagen).
Phytoceramides replenish the depleted ceramides in the skin. They are natural, plant-derived ceramides (Sublime Beauty's are rice-derived, the best in clinical tests.)
Phytoceramides are FDA regulated as a dietary supplement. They have long been used in Japan and Europe. More information can be found on the special Sublime Phytoceramide website.
Take one per day, and see results in about 30 days, the time it takes the ceramides to travel from deep levels of skin to the surface. Some changes in skin quality will be noticed in 2 to 3 weeks.
Phytoceramides:
Reduce lines and wrinkles
Reduce photo-damage and age spots
Increase moisture-retention and radiance
Improve skin quality and functioning
"We offer anti-aging skincare products to "Age Younger", and Phytoceramides fit perfectly into this strategy for our clients," says Kathy Heshelow, founder of Sublime Beauty®. "We hope many take advantage of this 1 day event."