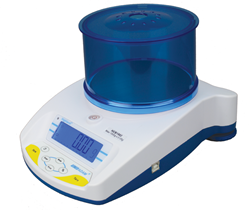 From middle schools and high schools through college and university levels, the Highland is well-suited for learning.
Danbury, CT (PRWEB) May 01, 2014
Adam Equipment, a manufacturer of balances and scales for professionals worldwide, has produced a new video on the Highland portable precision balance. The video demonstrates that Highland balances deliver the best value for school science classes, with more features and accessories than other comparable balances.
Available in eight models delivering precision readabilities in capacities up to 3,000g, Highland is packed with features that make it an excellent choice for education.

Adam's patented (internal) HandiCal® allows you to calibrate right in the classroom, without using external weights
Three-point ShockProtect® helps prevent damage to internal components caused by overloads
Highland balances can be stacked, thanks to a unique design
An optional Kensington-type lock and cable can be used to help deter theft
The backlit display is easy to read and offers a capacity tracker that indicates used and available capacity while you work. Highland displays results in several weighing units, including grams, pounds, ounces and more. Unwanted weighing units can be disabled to avoid weight reading errors.
A built-in, rechargeable battery lets you use the Highland almost anywhere, while an AC adapter/charger also is included. For density or specific gravity determination, a hook is included for weighing below the balance. Weigh your samples in air, then weigh your samples submerged in liquid to calculate specific gravity. The removable draft shield helps reduce errors caused by air currents. Both USB and RS-232 interfaces are included for easy communication with computers and printers for data analysis and collection.
View the Highland video on Adam Equipment's YouTube channel.
About Adam Equipment
For more than 40 years, Adam Equipment has designed and manufactured precision balances and scales for professionals worldwide in the laboratory, medical, education, industrial, food, animal/veterinary and jewellery markets. Adam is committed to offering an extensive selection of weighing equipment with best-in-class value. Headquartered in the United Kingdom, the company has strategically established offices in the United States, South Africa, Australia and China to provide product support and speedy delivery to distributors. For more information about the company and its products, go to http://www.adamequipment.com.