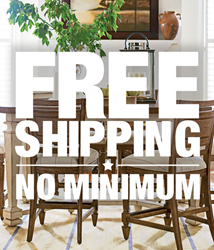 Kirkland, WA (PRWEB) May 01, 2014
ATGStores.com is delivering increased value for its customers by introducing free shipping on everything with no minimum purchase and eliminating restocking fees for millions of home improvement and home furnishing items.
Free shipping is now available within the continental U.S. with no minimum purchase or subscription fee and restocking fees have also been phased out. ATGStores.com has prepared its operational and customer service teams to help customers take advantage of the free shipping and a more streamlined returns process.
"By removing shipping and restocking fees, our customers can better focus on selecting the best products for their projects," said ATGStores.com President Michelle Newbery. "These hassle-free processes combined with our wide selection and dedicated onsite customer experience teams are helping us bring all that's good about ATGStores.com to our customers every day."
ATGStores.com is excited to bring these premier services to all of its customers at no additional cost as a way to cement its commitment to making a real difference in how people engage in online shopping for furnishings and home improvement products.
ATGStores.com, a Lowe's Company since 2011, specializes in home improvement and home furnishing products and has been serving its customers since 1999. The company features more than 3 million products in a host of different categories ranging from lighting and plumbing to furniture and hardware. Click here for more information and a detailed timeline on ATGStores.com.