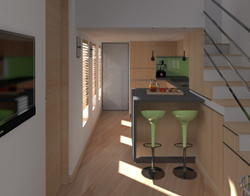 The houses are tiny but the design is nothing short from fabulous- and it is customized to the specific needs and aesthetics of each client.
Cambridge, MA (PRWEB) April 30, 2014
Arcbazar offers an innovative online design concept to help design great functional Tiny Houses.
The Tiny House movement is growing in America and worldwide. According to " The Tiny Life" it is a social movement where people are downsizing the space that they live in. The typical American home is around 2600 square feet, while the typical small or tiny house is around 100-400 square feet. Tiny Houses come in all shapes, sizes and forms but they focus on smaller spaces and simplified living. People are joining this movement for many reasons, but the most popular reasons are because of environmental concerns, financial concerns and seeking more time and freedom..."
This movement will change the way we live and think about habitable space, but also has the potential to help solve social housing inequities. With more citizen adhering to this movement and planning a different lifestyle, designing a functional livable space, where every inch is maximized, becomes a real design challenge.
Arcbazar helps solve the design problem by crowdsourcing creative solutions from designers around the world and gives homeowners the ability to create such spaces with the click of a mouse button. The website is a platform where clients can launch design competitions online to received multiple design concepts. "We want to give homeowners the access to creative, affordable and exciting design," says Ana Batista, co-founder of Arcbazar.com. "Our projects range from small home renovations, to landscape or commercial spaces. Our clients are always happy to see creative solutions and different design languages they had never anticipated. There is also an estimator on the site to answer the most pressing question of most home-owners: what does my contest cost?" Giving clients multiple spacial interpretations and concepts is an incredible tool, specially when the space is very limited and precious. The houses are tiny but the design is nothing short from fabulous- and it is customized to the specific needs and aesthetics of each client.
Lori M., RI, is planning retirement in a tiny home and was looking for "a lovely living space where I can live for the rest of my life". She needed an organized, modern and colorful space that incorporated areas to sleep and craftwork, and that could be built on a trailer to be moved. Lori started a project at Arcbazar, received 12 design concepts for the tiny house, and ultimately elected a proposal by Miriam Gatti, MG Architect Studio, Italy. "There were a lot of expectations. I was looking for something new, exciting and not the "norm"... I did find a design that I absolutely love! It was awesome seeing different takes on my write up of what I was looking for."
To view Lori's Rockin' Tiny House project and learn more, visit arcbazar.com, and follow the design-to-construction process at http://www.facebook.com/RockingTinyHouse.
About Arcbazar
Arcbazar.com, Inc. is the first-of-its-kind online crowdsourcing platform for architectural design projects. The company connects clients with designers worldwide, and allows clients to run competitions for their remodeling, home, commercial and interior design projects.