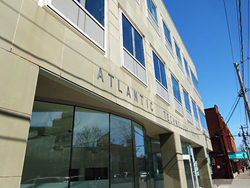 The new facility is designed to be scalable and capable of millions of transactions.
Toronto, ON, Canada (PRWEB) April 30, 2014
The facility also houses Carta's new Data Centre, which features the most modern technology available including 3Par Storage Solutions and the latest generation of HP & IBM servers.
"Carta is proud to open its new Data Centre in PEI" said Rui Mendes, CTO of Carta Worldwide. "We are consolidating our next generation technology with a well planned and highly efficient infrastructure. The new facility is designed to be scalable and capable of millions of transactions. With Carta's global leadership in mobile payments, specifically Host Card Emulation (HCE) with Remote Secure Element (RSE) for NFC, we are anticipating and ready for high transaction volume loads. Our 'active-active' site solves many issues encountered with traditional data centres."
Brian Semkiw, CEO of Carta Worldwide commented, "We are encountering many programs, especially in the public sector, that require transaction processing and data storage to be resident in Canada. This new centre will be the first payment processing data centre of its kind in Canada, available to all Financial Institutions and program managers who select Carta's next generation transaction processing systems."
Some notable facility features include:
1. Electrical - the centre offers a flexible array of electrical circuit configurations customized to Carta's needs. Power is supplied by redundant APC and Powerware UPSs which are further backed up by a 550KVA Cat diesel generator.
2. Cooling & Environmental - ATC provides Carta with redundant N+1 cooling, distributed through a raised subfloor. Following the traditional hot aisle / cold aisle methodology to efficiently cool Carta's equipment. A room temperature of 19°C and a humidity level of 50% is maintained. An array of sensors in the data centre monitor changes in environmental levels (such as humidity, water, temperature, smoke, etc.) that notify the team before a serious problem can occur. Fire-suppression is provided by a dry-pipe pre–action system, limiting the damage that would occur to equipment in case of a fire.
3. Security - Entry into the facility is controlled through a multi-door entry point using proximity access cards giving our employees 24/7 access to our data centre. The facility is monitored 24/7 with digital video surveillance to ensure our equipment is safe. Carta has a secure locked room, with access only provided to Carta employees for all server equipment.
4. Data / ISPs - There are multiple fibre entry points into the building from multiple ISPs. In addition, there is a high level of internet redundancy with a dual router / dual ISP configuration (BGP connectivity between Bell Aliant and Eastlink).
Carta plans to build a strong presence in the community. Carta also plans to foster a strong relationship with the University of PEI's Computer Science and Information Technology groups and graduates – providing employment and co-op opportunities to some of the brightest minds PEI and Canada have to offer.
About Carta Worldwide
Carta provides breakthrough transaction solutions that enable Program Managers, Banks, Mobile Network Operators and Merchants to accelerate the development of their transaction initiatives, giving our clients the advantage. As an innovation leader in the traditional and mobile payment industries, Carta is dedicated to providing reliable, secure, and flexible products to our clients.
http://www.cartaworldwide.com