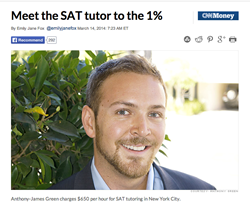 I've been incredibly blessed to achieve such success tutoring the SAT - but I have very limited bandwidth - Test Prep Authority is my way of helping as many people as possible to achieve better scores and craft better college applications.
New York, New York (PRWEB) May 01, 2014
Anthony-James Green, recently called "the SAT tutor to the 1%" by CNN, has just launched Test Prep Authority, a complimentary, online resource center to help students and parents prepare for the SAT and ACT. Test Prep Authority contains full guides on crafting college applications, selecting the right test to take, making smart test prep decisions, and more. Green is launching the site to help the hundreds of thousands of families that he can't personally reach on a one-on-one basis.
Students and parents interested in the site can visit it via the following URL:
http://www.TestPrepAuthority.com
"I've been incredibly lucky to achieve such success tutoring the SAT," says Green. "However, it's frustrating that, on a one-on-one level, I'm able to help so few people a year. My time is limited, and as demand for my services has gone up exponentially, my rates have gone up as well, which means that my personal tutoring is out of reach for the vast majority of families. I'm launching Test Prep Authority so that the millions of students who take the SAT and apply to college every year can make smart, informed decisions based on my thousands of hours of experience. I only work with forty students a year, but thanks to this site, I can help countless more."
After working with nearly 400 students 1-on-1, Green has achieved average student score improvements higher than any other tutor, class, or program in the world; his average SAT student improves by over 430 points, and his average ACT student improves by over 7 points. As a result, Green charges upwards of $850 an hour for his one-on-one instruction, working with some of the most privileged families in the world. Test Prep Authority is Green's most recent attempt to disseminate his expertise more widely.
"My students improve by so many points for two reasons: my instructive abilities and my methods, both of which have been crafted over more than 10,000 hours of experience with these exams. And while I can't work with countless students on a personal basis, I have been able to deliver most of my best lesson plans, strategies, and tactics through the Green SAT System, which costs less than 1% of what it costs to work with me personally."
Green launched his online SAT prep program, The Green SAT System, in January of 2013. So far, the results have been remarkable: more than 2,500 students have used the program, with an average student score improvement of more than 380 points. The program, an all-inclusive, step-by-step SAT prep software coupled with textbooks, costs only $297, and comes with a 21-day guarantee. Parents and students interested in learning more about the program can do so via the following URL:
"Test Prep Authority is just another step in the right direction," says Green of his new resource site. "The Green SAT System is a comprehensive tool for raising test scores, but it doesn't tackle the countless other questions that face parents and students during the application process. Which tests should students take? Where should they apply? What MUST they do on their applications, and what should they avoid at all costs? These are the sorts of questions I'm doing my best to answer on Test Prep Authority, and I'm working hard to expand the site and make it more usable on a daily basis."
Currently, Test Prep Authority contains three, full-length guides geared toward answering the most common college application and test prep questions. The site also contains a full Q&A section containing answers to the most frequently asked questions that Green encounters on a day to day basis. It also offers a free download of Green's book, Test Prep for Parents, via the included newsletter. In the near future, Green plans to add six more guides tackling subjects from the SAT Subject Tests to the PSAT.
Parents and students interested in learning more about Green's personal tutoring can do so via his personal booking site at the following URL:
http://www.NewYorksBestSATtutor.com
Green has spent his entire career tutoring the SAT, crafting curriculum, and training others to teach the exam. He has run his own SAT and ACT prep firm, authored multiple books on the subject, crafted multiple software programs to teach the exam, and tutored over 100 tutors to use his methods. He's also the author of Test Prep for Parents, and creator of the popular online SAT vocabulary tool, Vivid Vocab.
Green lives in New York City, where he tutors full time when he's not working on his online program and resources.