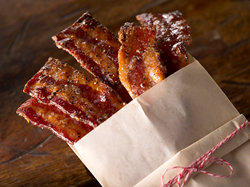 these tempting dishes and treats will keep your family and friends crowded around your kitchen on rainy days-- or any day for that matter.
Oklahoma City, OK (PRWEB) April 30, 2014
The Made in Oklahoma Coalition has released their Recipes of the Month for the month of May. With the Spring season in full swing, these tempting dishes and treats will keep your family and friends crowded around your kitchen on rainy days-- or any day for that matter. The tasty recipes follow below:
Candied Bacon
3 tablespoons Griffin's Original Syrup
1/2 cup brown sugar
½ teaspoon black pepper
1 pound JC Potter Sliced Slab Bacon
Mix together syrup, brown sugar and pepper in a small bowl.
Place foil on the bottom of a baking sheet. Place bacon on a cooling rack set over the baking sheet.
With basting brush, spread half the mixture on the bacon. Bake in a preheated 400 degree oven for 20 minutes. Turn bacon, brush with remaining syrup mixture and continue to bake 20 to 25 minutes or until crisp.
Remove bacon from rack while it's hot or else it will stick. Bacon will continue to crisp once out of the oven. Break slices in half, and serve warm or at room temperature.
Brunch Enchiladas
1 pound JC Potter Hot Sausage
½ cup bell pepper, chopped
1/4 cup chopped green onion
2 tablespoons chopped cilantro
2 cups shredded pepper jack cheese, divided
10 small (fajita-size) flour tortillas
6 eggs
2 cups Hiland Whole Milk
1 tablespoon Shawnee Mills All-Purpose Flour
½ teaspoon salt
¼ teaspoon fresh ground black pepper
¼ teaspoon garlic powder
1 teaspoon hot sauce
1 cup mild taco sauce
Brown sausage in a hot skillet, cooking until fully cooked and crumbled. Remove from heat, drain and place into mixing bowl and for cooling. Add bell pepper, onion, cilantro and 1 cup cheese, mix gently.
Fill each tortilla with 3 heaping tablespoons of sausage mixture. Roll tightly, and place snugly in a 9-by-13-inch pan that's been sprayed with nonstick cooking spray.
In a large bowl, whisk eggs. Add milk, flour, seasonings and hot sauce, stirring to combine. Pour over enchiladas. Cover, and place in refrigerator overnight.
Bake, covered, at 350 degrees for 45 minutes. Uncover, then pour taco sauce over the top. Sprinkle with remaining 1 cup cheese. Continue to bake, uncovered, for 10 to 15 minutes or until hot and bubbling.
Homemade pound cake is delicious in this trifle, but if you're short on time, use a store-bought cake for this layered dessert.
Creamy Dreamy Berry Trifle
Pound Cake, cubed (recipe below)
¾ cup Garden Club Red Plum Jam
4 cups Hiland Whipping Cream
1 (3.4-ounce) package instant white chocolate pudding mix
1 pound strawberries, hulled and sliced
2 cups raspberries
¼ cup sliced almonds
3 ounces white chocolate, chopped
Cut pound cake into 1-inch cubes, and set aside. Spread jam between cubes of pound cake to make mini cake sandwiches. Set aside.
In a large mixing bowl, slowly begin mixing whipping cream with an electric mixer. Mix on medium-high speed until mixture begins to thicken. Slowly add pudding mix, continuing to mix until thickened but not stiff.
In a large glass bowl or trifle dish, layer 1/3 pound cake pieces, 1/3 whipped cream mixture, 1/3 strawberries and raspberries, 1/3 almonds and 1/3 chopped chocolate. Continue layering, ending with chopped chocolate.
Pound Cake
Ingredients
2 sticks Hiland Butter
1 cup Sugar
4 ea LG Eggs
1 TBSP Griffin Vanilla
1/4 tsp Baking Powder
2 cups Shawnee Mills, All purpose Flour
Directions
1. Preheat oven to 350. Butter and flour a (8 1/2-by-4 1/2-inch) loaf pan; set aside.
2. Cream the butter and sugar until light and fluffy. Add eggs one at a time, beating well after each addition; add vanilla. Lower the mixer speed and add flour 1/2 cup at a time being careful not to over mix. I will often finish the batter by hand with a folding action using a spatula.
3. Bake for one hour using toothpick test. Let cool for 15 minutes, Edge the pan with sharp knife and remove and allow cooling on rack.
Variations
You may wish to add a cup of nuts or 1/2 cup of dried fruits
Using an 8" X 8" pan makes a nice flattened loaf and is ready from the oven in 45 - 50 minutes.
###
The Made in Oklahoma Coalition (MIO) is a state-run group that represents more than 40 Oklahoma food and agricultural manufacturers, who employ over 20,000 Oklahomans statewide. MIO's mission is to promote brand awareness and consumer loyalty for Oklahoma food and agricultural products. This is accomplished through collective marketing for the purpose of increasing sales, maintaining business retention and expanding Oklahoma's food processing sector. MIO, Good for You. Good for Oklahoma. For more information visit http://miocoalition.com.