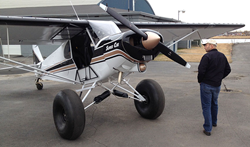 One of the things that stands out about this show is that we have one of the first Super Cubs with the AmSafe airbag installation, Dee Hanson Executive Director of the Alaska Airmen Association
Anchorage, AK (PRWEB) May 01, 2014
This coming weekend is the culmination of everything aviation in the state of Alaska. The 2014 Great Alaska Aviation Gathering on May 3-4 will feature the best, newest and most innovative aviation related information to participants of the show.
Besides its free admittance, one of the things that stands out about this show is that we have one of the first Super Cubs with the AmSafe airbag installation on display that will also be raffled on Sunday afternoon," said Dee Hanson, executive director of Alaska Airmen Association.
The Federal Aviation Administration and the National Transportation Safety Board have been suggesting the installation of air bag type seat restraints since a 2006 mandate by the NTSB.
With over 275 aviation related vendors, static display of military, commercial and general aviation aircraft, and a full schedule of expert speakers throughout the weekend—you won't be disappointed.
One of the highlights of the weekend besides seeing all of your aviation friends will be the raffle of a refurbished Piper PA-18 Super Cub complete with 35 inch Alaskan Bushwheels and a baby Bushwheel and all the mods needed fly the bush.
"It's finished, we completed the refurbishing and adding the mods before the show… and everyone who has flown it says it flies really nice," said Dan Hollingsworth of Dan's Aircraft Repair at Merrill Field in Anchorage. Hollingsworth also installed the Amsafe airbags in the two place aircraft and is considering becoming a distributor for the harness type restraint.
"This is a simple installation, it was not as complicated as we had imagined at first," said Hollingworth about the seat restraints.
Tickets for the raffle Cub will be sold until just before the raffle at 4:45 p.m. on Sunday May 4. Each ticket goes to pay for the plane and to raise funds for the organization's aviation outreach programs. Tickets are $50 each, or five for $225.
The Alaska Airmen Association is a non-profit Alaskan aviation organization with over 2,200 members that has been in existence since 1956. This is the 17th annual trade show and convention that is sponsored by FedEx and UPS.
To purchase tickets contact the Alaska Airmen at (907) 245-1251 or 1- 800-464-7030. For more information the Great Alaska Aviation Gathering go to: http://greatalaskaaviationgathering.org or for information on the Cub and where to buy the tickets send a message to: supercub2014(at)alaskaairmen(dot)org.