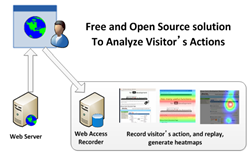 Free and Opensource Solution to Analyze Website Visitor's Experience
(PRWEB) May 02, 2014
The I3planet co.,ltd. released new software "Web Access Recorder ver 1.0" for webmasters on May 2, 2014. This software is free and the source code is opened.
This software is to record website visitor's action and log it by Javascript, and replay and analyze it.
By replaying the visitor's motion on accessing a page, web masters can know the detail of the experience of each visitors. When web masters make a landing page, and use advertisement, they can find out the problem by using this function.
In addition to the replayer, The Web Access Recorder can generate 2 type of Heat Map. They are Mouse Move Heatmap and Window Scroll Heatmap.
By using Mouse Move Heatmap, web masters can analyze where the visitors looks a lot. And by using Window Scroll Heatmap, web masters can analyze which part of your landing page is viewed most, and scrolling reach of the landing page.
This software is written in Alinous-Core programming language and Java. It has Eclipse based IDE, therefore you can setup this application with the New Wizard of the platform.
The Alinous-Core is a language made in Java, and it can make the program very easy by using programming language instead of complex programming framework.
The New Wizard setup the source code of this application, and users of this software can run it in their local machine with the IDE. They can also customize the source code and debug it by using debugger.
In the page below, there is information about this software, and how to customize this software:
The Web Access Recorder's page