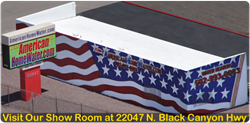 American Home Water is now offering Phoenix reverse osmosis systems for under a $1,000.
Phoenix, AZ (PRWEB) April 30, 2014
Phoenix residents know all to well how terrible the Arizona water can be. Arizona's super hard water makes it essential that all homes in the Phoenix area have a water filtration system. Now, thanks to American Home Water, Phoenix residents can get a complete water softener and reverse osmosis system installed for less than $1,000.
American Home Water has been in business for more than thirty years and is known throughout Arizona as the most trustworthy water filtration system company.
Water softeners can reduce a home's soap usage by 70%, help reduce irritation to skin, make dishes super clean, and because they eliminate calcium scale buildup, they make homes much easier and less time consuming to keep clean. When purchased at a fair price, a water softener is a great investment and will actually pay for it self many times over. Why? For a normal family, up to 25% of the grocery bill is spent on cleaning products. With a water softener there is a reduced cost for cleaning supplies, higher efficiency from your water heater and an extended life expectancy from appliances, faucets, showerheads and clothes. This adds up to thousands of dollars that can be saved by using soft water, and adds to a better quality of life for families living in homes with water softeners.
While many water companies will not give price quotes over the phone, American Home Water believes in being up front and honest with their customers. American Home Water will gladly give a price quote over the phone and even posts their prices on their website: http://www.americanhomewater.com.
To learn more about American Home Water and to schedule an installation or get pricing information please visit American Home Water's website at http://www.americanhomewater.com or call them directly at (602) 993-0083.