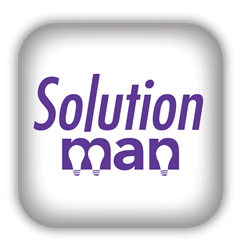 I enjoy introducing people with great minds to other people with great minds. The reason some people call me Solutionman is that I have been very effective in introducing people to other people who can help them solve problems.
(PRWEB) April 30, 2014
Several years ago, when Linkedin surpassed the 100-million member mark, I was surprised to receive a personal letter from Reid Hoffman, the cofounder and chairman of Linkedin. Hoffman thanked me for being one of the first people to join Linkedin. Today, Linkedin has over 300 million members, and I am ranked as one of the "Top 10 Most Connected People" on Linkedin.
Many people have asked why I created my large network. My answer is simple: I enjoy introducing people with great minds to other people with great minds. The reason some people call me Solutionman is that I have been very effective in introducing people to other people who can help them solve problems. I've been blessed with meeting people with great brains, and I go out of my way, to introduce them to other people who also have great brains.
A few years ago, FAST COMPANY's "Influence Project" ranked me as one of the "Top 25 Most Influential People Online." Since Linkedin limits the number of an individual's first-level connections to 30,000, there are over 10,000 people who are waiting to connect with me. I apologize if you are one of them.
So how did I achieve such a milestone? I joined Linkedin on February 3, 2004 and was member number 188,322. Besides being an early adopter of Linkedin, I made it a priority to invite my network of current and past customers to join Linkedin. Since I was nicknamed "Solutionman" by a client from AT&T, I saw Linkedin as a solution for keeping in touch with my network. I already had a database of thousands of connections accumulated from traveling and leading the innovation workshops and giving keynote speeches.
At first, people were hesitant to join me on Linkedin, but they trusted my opinion and joined. Years later, hundreds of people were grateful to follow me for my advice to join Linkedin.
In 2007, I was one of the first people to take advantage of Linkedin's new feature for creating Groups. Taking advantage of this new opportunity, I asked the people in my network what groups they would like me to organize. Since my company had focused on providing innovation training for over 20 years to customers in 26 countries, naturally much of my network had a passion for innovation.
I created a group focused on "green and sustainable" innovation, which now has over 20,000 members. Next, I created a group for people focused on "product and service" innovation that now has 6,000 members. As I traveled the globe, I also created geographically-based groups for people in Asia, South American, India and the Middle East. Today, I have over 50 Groups on Linkedin that include Brand Innovators (14,000 members), Healthcare Innovators (4,800 members), App Innovators (6,500 members) and a small group of Futurists (1,100 members). Since I created these groups before Linkedin started to limit the number of groups people could join to ten, I am fortunately grandfathered in so I own the large number of groups.
However, I had something bigger in mind. I created one of the largest groups on Linkedin. My "Marketing, PR, and Sales Innovators" Group has over 260,000 members and is adding about 1,500 members per week. Soon, the total number of members belonging to my Linkedin Groups will surpass 500,000 people. By combining my 30,000 first-level connections with a half million group members, I've been called "the most connected innovator" in the world.
--------------------------------------------------------------------------------------------------------
MY 7 STRATEGIES FOR NETWORKING ON LINKEDIN
Many social media experts and people curious to know how I created my large network of innovators. Here are several ways I network to keep ahead of the curve keep building our brand:
STRATEGY #1: I devote 30-45 minutes per day replying to Linkedin messages and introduction requests.
STRATEGY #2: I seek to connect with five different types of networkers: (1) Innovators, (2) Investigators, (3) Creators, (4) Evaluators and (5) Activators.
STRATEGY #3: I invite everyone who attends my workshops or hears my keynote speeches to join my groups. For example, I spoke to 8,000 people at the Singapore stadium, and they were all invited to join my networks.
STRATEGY #4: I brand my groups so they stand out from the other 1.9 million groups. For example, all my groups have purple logos and unique graphics. My customers know I drive a purple car, have purple walls at my Thinkubator and wear purple clothes.
STRATEGY #5: I facilitate weekly networking webinars for 20-30 people in my network. All participants share their needs and goals so that other people can offer help or solutions. There is a waiting list for people to be invited to attend my networking webinars.
STRATEGY #6: I host monthly live "networking events" at my Thinkubator Studio near downtown Chicago for up to 50 guests. The Thinkubator invite list is carefully selected from my Linkedin network in Chicago to ensure the group is diverse. Like the networking webinars, there is a waiting list for people to attend the networking events at my Thinkubator Studios.
STRATEGY #7: I organize networking events for my Linkedin group members when I travel to other cities around the world. I have organized large networking events in New York, Los Angeles, Hong Kong, China, Germany, Brazil, Mexico, Switzerland, Thailand and the Philippines.
--------------------------------------------------------------------------------------------------------
WANT SOME HELP NETWORKING WITH MORE INNOVATIVE PEOPLE?
EMAIL ME: [email protected]
NETWORK WITH ME ON LINKEDIN:
http://www.Linkedin.com/in/geraldhaman
NETWORK WITH ME ON TWITTER:
http://www.Twitter.com/Solutionman
NETWORK WITH ME ON FACEBOOOK:
http://www.Facebook.com/TheSolutionman
---------------------------------------------------------