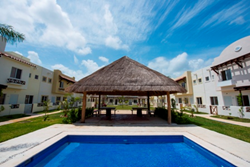 We have been able to put together a product that is not only affordable but high quality and in a great location. Like Mark shows, people spend more than this on a time share, and this you actually own.
Playa del Carmen, Mexico (PRWEB) May 01, 2014
Mark Bryson, was staying at an All-Inclusive resort in the Riviera Maya. He and his family had heard about a local nature park and when they were offered free tickets by his resort he jumped at the chance. All they had to do was sit through a 45 minute presentation on vacation ownership when they came back.
That was 4 years ago. The 45 minute presentation actually took 7 hours, and the vacation ownership was a time share package that mark paid $74,000 dollars for.
"At the time it sounded great" says Mark. "We had vacationed in the same place for 5 years, the kids loved it, and why not make some money off the money I was already spending to vacation every year?"
Mark was promised rental income. "They told me that I actually owned the weeks I was buying, and this was a very sought after commodity that the hotel could actually resell to people wanting to vacation. We were paying $400 a night to stay there, made sense that others would pay $400 a night just like us. They were very professional from top to bottom."
Since that day Mark has never seen a check. His $74,000 investment has cost him many thousands of dollars more in maintenance fees, and he today pays nearly the same amount to stay that that same resort as he did before he spent the $74,000. "Before I paid $74,000 the resort cost me $400 a night, today the resort costs me $400 a night, nothing changed." So the last thing you would expect Mark to be doing is buying real estate in the Riviera Maya.
But that is exactly what he just did. He recently completed a transaction to purchase a 2 bedroom condo in the Caribbean Living project for $69,000 USD. "This is amazing" says Mark, "I own this, I can use it when I want, let my family use it, even make it a tax right off if employees use it, and it cost less than a timeshare that was completely a bust."
People all over are astounded at the value that Caribbean Living is able to bring. A 2-bedroom condo right in the newly built and extremely safe area of Playa del Carmen, long considered the jewel of the Riviera Maya, that is only 5 minutes to the beach, all for under $70,000 USD, there has to be a catch.
But Steve Didier, CMO for American Realty, the Master Broker for the development explains: "We have been able to put together a product that is not only affordable but high quality and in a great location. Like Mark shows, people spend more than this on a time share, and this you actually own."