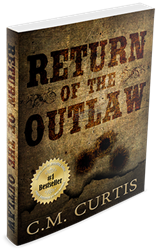 RETURN OF THE OUTLAW has sold thousands of copies worldwide, making it a #1 Bestseller, and readers have compared Curtis to the great western authors of old like Louis L'Amour, Zane Grey, Ernest Haycox, and Luke Short.
Salt Lake City, UT (PRWEB) May 02, 2014
KWYM Publishing is proud to announce that Return of the Outlaw, a western novel by Utah Native C. M. Curtis, has sold more than 15,000 copies and is now a #1 Best Seller.
Return of the Outlaw is a novel about a young man named Jeff Havens, recently returned from fighting in the civil war. They killed his friends, stole his ranch, and took from him the woman he loves. They branded him an outlaw, accusing him of the very crimes they committed. But they're about to learn that taking everything away from him has turned him into the most dangerous kind of man there is: The kind that has nothing left to lose. Jeff Havens has a fast gun and a long memory—and he's back.
Curtis has written two other books as well – Across the Dark, a thriller/mystery taking place in the shadows of an old mine, and The Three Lives of David Kelly, a feel-good romance story about life, love and multiple chances to get it right.
Curtis was raised in the small cattle-raising town of Orangeville, Utah. His paternal grandfather was a wild horse hunter and his maternal grandfather is said to have met Butch Cassidy. He currently lives in the Phoenix area where he works as a chiropractic physician, lecturer, and author.