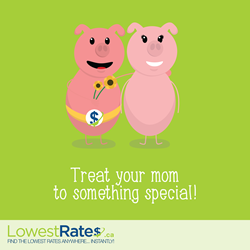 "In many cases it's the Moms who balance the family checkbook
Toronto, Canada (PRWEB) May 01, 2014
With Mother's Day less than two weeks away, LowestRates.ca is celebrating Moms from coast to coast this May with its #MyKindaMom Contest.
Between May 1st and May 10th, Canadians are cordially invited to submit anecdotes and stories describing the best nuggets of money saving wisdom they have received from their Moms over the years.
"In many cases it's the Moms who balance the family checkbook, and we wanted to celebrate that often-overlooked fact this year with our #MyKindaMom Contest," said Justin Thouin, LowestRates.ca's CEO.
After May 10th, the team at LowestRates.ca will publish its 10 favourite story submissions on the LowestRates.ca blog. The story that picks up the most combined Facebook 'likes' and Twitter/Google+ 'shares' wins, with the lucky author getting their choice of $200 in spa gift certificates and $100 from the Keg, or $300 in cash!
"We have no doubt that the lucky #MyKindaMom Contest winner will use their $300 prize to pamper their Mom silly, and we wouldn't have it any other way," said Thouin.
To enter the #MyKindaMom Contest, Canadians can simply head to the contest webpage, https://www.lowestrates.ca/landing/mykindamom, where they can register and then submit their story anytime before May 10th. Entrants picked as finalists will be notified by email on Mother's Day – May 11th, 2014.
In the spirit of saving money, entrants and Moms alike can also check out the lowest rates on personal finance products in Canada, including 5-year fixed rate mortgages from 2.83% and variable rate mortgages as low as 2.25%. They can also browse LowestRates.ca's redesigned credit card section, with new comparison tools and all the top credit cards, as well as compare car insurance quotes from the leading insurance companies in Canada.
About Lowest Rates Inc.
Based in Toronto, Canada, and founded in 2012, Lowest Rates Inc., through its websites LowestRates.ca and LowestRates.com, provides a free independent online service that helps consumers compare personal financial products offered by North America's leading financial institutions. Lowest Rates Inc. helps people save time and money by allowing them to compare offers on mortgages, insurance and credit cards all in one place. Lowest Rates Inc. strives to become North America's leader in providing consumers with the necessary tools and unbiased information they need to quickly and conveniently find the right personal financial products for their unique needs.
For more information visit LowestRates.ca and stay connected by following us on:
Twitter (@lowestrates_ca)
Facebook (http://www.facebook/lowestrates)
Blog (http://www.lowestrates.ca/blog)
Contact Information
Media inquiries:
Justin Thouin, President and CEO
justin(at)lowestrates(dot)com
Online marketing partnerships and opportunities:
Cliff Ritter, CMO
cliff(at)lowestrates(dot)com