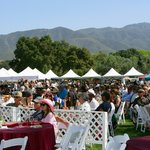 We are grateful for the continued support of Ambassador Solar
Murrieta, CA (PRWEB) April 30, 2014
The Temecula Wine and Music Festival stage is tucked in the ancient oak trees of Vail Lake near the Temecula Wine Country and fans out into a sprawling lawn and pond. It is within an hour's drive from Los Angeles, Orange, Riverside, San Diego and San Bernardino counties, and offers entertainment from jazz, pop and R&B superstars. Headlining this year are Chante Moore and Ray Parker Jr., who was made a household name with his song 'Ghostbusters'. The list of performers is long, diverse and renowned.
"We are now in our ninth year," said festival producer Terri Paulo of Apaulo Music Productions. "This year, the festival continues with the tradition of providing world-class entertainment, a unique wine tasting experience and a variety of vendors showcasing their latest products! With several artists performing and over ten wineries offering a unique wine tasting experience, we are one of California's largest wine and music events."
We couldn't wait to come back as a sponsor," said Kelly Smith, president of Ambassador Energy. "Each year Apaulo raises money for a great cause. So, not only is it fun and philanthropic, but we also get to come out and share our enthusiasm for solar energy. The Paulo's are my neighbors and I love supporting them and their causes! I also love walking around, shopping the vendor booths, tasting wines, and eating fun food - all while beautiful music plays on stage. There are giant oak trees, a peaceful pond, lots of grass, and it doesn't hurt that they have a cool VIP area, which I get to enjoy as a sponsor."
"We are grateful for the continued support of Ambassador Energy and sponsors of our events," said Michael Paulo, himself a world-class saxophonist and producer of the festival. Apaulo Music Productions produce music venues in Hawaii and California, including the Pacific Rim Jazz Festival, Grooves in The Grove at La Quinta Resort and Spa, Smooth jazz nights at The Sheraton Waikiki, Temecula Wine and Music Festival, and various corporate events.
Visit Ambassador Solar's booth, centrally located at the festival, where information regarding solar for homes, businesses and agriculture will be readily available.
About Ambassador Energy / Ambassador Solar [AE]
AE has a three-pronged business model, which includes Ambassador Energy College Solar Training, the Ambassador Energy Agency Program and the installation arms, Ambassador Energy and Ambassador Solar. On staff are NABCEP Certified PV Installers, NABCEP Certified PV Technical Sales professionals [Fulgham/Kelso] and multiple NABCEP EL graduates. AE holds California licenses General Contractor B, C10 Electrician and C46 Renewable Energy. Ambassador Energy is IREC/ISPQ accredited. AE Agencies are nationwide. Ambassador Energy installs residential and commercial PV systems throughout California and the US.
About Boys and Girls Club of Southwest County
Boys and Girls Club of Southwest County serves 6-18 year-olds and their families by providing transportation to and from the Clubhouses and school from 6:30 a.m. to 6:30 p.m. every school day, and exceptional programs that teach leadership, character, science, math, the arts, health and nutrition, and sports.