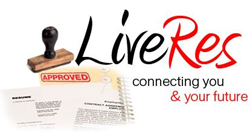 we have the ability to continuously add new features to enrich the user experience, but ultimately, to create a better way to connect those looking for jobs with those wanting to hire."
Miami, Fl. (PRWEB) April 30, 2014
LiveRes, (http://www.Live-Resume.com) a 100% FREE website that is changing the way job seekers connect with employers announces company growth, new website features, and its plans to continue a nationwide job-connection campaign to benefit its users and business owners by providing them with a fun approach to the job-seeking and hiring process.
LiveRes has expanded its website team to include new senior developer Kevin Beovides-Casas. Kevin will work out of the company's Miami office under the direction of Managing Member and Co-founder Matthew R. DeRose.
Mr. DeRose states, "Kevin is very talented and brings years of experience as a webmaster and developer. We are ready to expand our website and what we can offer our users. Adding Kevin to LiveRes gives us the ability to continuously add new features to enrich the user experience, but ultimately, it's to create a better way to connect those looking for jobs with those wanting to hire."
New website features that already in use include:

The ability to post multiple pictures and videos on a personal or company Public Board.
The ability to import contact information from G-mail, Yahoo and other email platforms, creating an address book to send personal invitations to view the user's Public Board.
The ability for someone viewing a Public Board to be able to send instant messages to an owner of a board, instantly communicating with them.
Innovation and development is a continual process for LiveRes, and available within a few weeks is an added archive feature. This new feature will allow an employer to record and save an online interview for later viewing.
After a successful showing at the Small Business Expo conference in Chicago, IL, LiveRes is continuing its expanding job-connection campaign on May 15th, 2014 in Dallas, TX, at the second of seven nationwide Small Business Expos. The Small Business Expo is a business-to-business tradeshow, networking event and conference hosting several shows around the country. At the Dallas event, LiveRes will continue to promote the company's fun, proven and unique approach to finding and filling a job to the expected 5,000 attendees.
"We met hundreds of business owners at the Chicago event who are excited to begin using our services," said Mr. DeRose. "It went extremely well. People are recognizing what we can do for them, and it's free. The Chicago event brought a huge increase in website registrations from business owners and we are looking forward to introducing LiveRes to thousands of business owners in Dallas."
If attending the Small Business Expo in Dallas, visit LiveRes at booth 209 to find out how:

LiveRes provides job seekers with the tools they need to create and upload resumes, and produce 60-second pre-interview videos.
LiveRes provides employers with the ability to post an unlimited number of jobs that can be activated or deactivated as often as needed.
LiveRes provides everyone with a Public Board that can be customized with pictures, videos and posts to help them promote themselves or their business by sending instant invitations to view their board.
About Live-Resume:
LiveRes (http://www.Live-Resume.com) has found a better way to connect Employers to qualified Job Seekers instantly using the very best of technology and social media. LiveRes is a 100% FREE website that is changing the way Job Seekers and Employers connect by matching only qualified applicant profiles with available positions based on employer-provided criteria and then placing those profiles directly in front of hiring managers to view.
Thousands of people and hundreds of companies nationwide use LiveRes. Find the perfect career or the perfect employee—visit http://www.live-resume.com.
Media Contacts:
Matthew R. DeRose
Managing Member / Co-founder
matt@live-resume.com
Douglas A. Cochrane Jr.
Managing Member / Co-founder
dac@live-resume.com