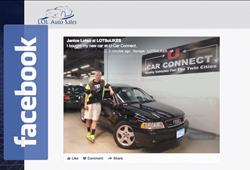 Automotive dealers using the app have reported Facebook engagement increases upwards of 200%
Minneapolis, MN (PRWEB) May 02, 2014
B Squared Marketing, a social media company based in Milwaukee and Minneapolis, announces its midwest distribution partnership with LOTSoLIKES, Inc.
LOTSoLIKES, Inc. released its first product, a Facebook-based viral marketing system, in January 2013. The app provides a turn-key solution enabling retailers to convert in-store traffic into Facebook "likes," and to generate referral traffic through the individual customer's news stream. Retailers install the app at the point of sale on an iPad kiosk where the customer is prompted to participate in a short customer satisfaction survey to be entered in a promotional offer, drawing, or give-away.
Participating businesses who provide their customers compelling offers using the LOTSoLIKES system average 4,000 impressions with each Facebook post. The app incorporates Facebook's robust marketing analytics platform, providing businesses with valuable ROI reporting, customer experience feedback, and automatic e-mail address capture for future marketing campaigns.
Customers using the LOTSoLIKES Facebook app are able to instantly send friends a personal message about their new purchase, or an exclusive "friends only" promotional offer appearing in their "friends" news stream, further helping local businesses extend their brand awareness and in-store traffic.
The partnership between LOTSoLIKES and B Squared Marketing is already benefiting clients of B Squared Marketing. B Squared's sales manager, Bryan Benishek cites that "Automotive dealers using the app have reported Facebook engagement increases upwards of 200%. The app's photo-sharing feature has provided dealers with a great way for customers to share their new vehicle purchase with friends at the moment it happens. Each customer post can be exposed to as many as 15,000 individuals attributed to friend "likes" and comments during the Facebook sharing interaction."
For more information about LOTSoLIKES Inc. or B Squared Marketing, please contact Bryan Benishek at bryanbenishek(at)yahoo(dot)com or (414) 430-7378.