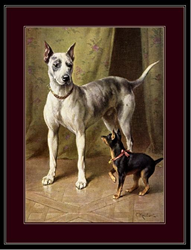 It's hard to run with the big dogs
San Diego, CA (PRWEB) May 02, 2014
Everybody enjoys a story when the little guy can overcome the big guy with cunning, talent and innovation. Jim Musgrave's new start-up in San Diego wants to establish a new eReader paradigm that puts Indie authors and publishers in the driver's seat when it comes to enhanced eBooks and the delivery of them to niche audiences. "We want to deliver enhanced content to the public without the headaches that now exist online," said Musgrave from his home in San Diego.
The idea behind the business is to create a free eReader App that can read enhanced content, and to deliver published enhanced content to the reader through a program called PhoneGap. This will all cost money, of course, and the Kickstarter campaign will allow donors to see the result of this outfit's enhanced eBook talent in action.
The goal of English Majors Reviewers and Editors is to put the author as close to his audience as possible. How much closer can you get than being in the same app? Social communication between author and his reader can become the fastest and most innovative experience in the history of electronic reading, and EMRE wants to make it happen. Musgrave wants people interested in innovative technology to see what his organization wants to do to create the tipping point in the favor of Indie authors.