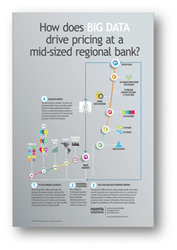 Forum brings together a diverse group of thought leaders in an intimate setting to explore both the theory and real-world best practices of banks utilizing customer demand-drivers as part of their products and pricing processes.
San Bruno, CA (PRWEB) May 01, 2014
The economy and lending environment is slowly but steadily improving, but it is doing so in an era of new competitors, regulatory pressures, and the expectation of a rising interest-rate environment. As a result, the competition between banks to profitably acquire and retain customers is heating up. At one conference, held May 28-29 in Half Moon Bay, California, all sides are coming together to discuss how the industry can apply big data and analytics so that everyone wins. At Nomis Forum 2014: "Understand Your Customers and Everyone Profits", academics, policy makers, data scientists, and bankers explore the present and future of scientific decision-making in pricing for financial services.
"The seventh annual Nomis Forum brings together a diverse group of thought leaders in an intimate setting to explore both the theory and real-world best practices of banks utilizing customer demand-drivers as part of their products and pricing processes," said Nomis CEO Frank Rohde. "The effective use of data can drive new product innovation, customize interactions, and enhance value-added services for customers."
Excerpts from a video interview with Rohde where he discusses what attendees can expect at Nomis Forum 2014 are available at http://www.youtube.com/watch?v=qaHLfAfnNAo.
The schedule includes:

Stephan Meier, Associate Professor at Columbia Business School, researches behavioral strategy. His research discusses how banks might make pricing and product decisions assuming that their customers do what's right for them. In fact, it is quite the opposite. Meier's research shows how people make the wrong decisions quite frequently. If banks understand this, he argues that they can develop win/win strategies for the bank and the customer. Meier has served as a senior economist at the Federal Reserve Bank of Boston and his insights have been profiled by The Economist, Wall Street Journal, Financial Times, and the New York Times.
Robert Philips is perhaps best known for helping to make demand pricing popular in the airline industry and for literally "writing the book" on pricing and revenue optimization. Now that price-sensitivity big-data and analytics are becoming more mainstream, Philips is looking toward the next wave of mass customization in banking. He'll explain the likely evolution of how big data and advanced analytics will allow financial institutions to better understand customers for mutual profit in the future. Specific technology he sees on the horizon are recommendation engines and the ability of mass customization to impact customer intimacy. This is successfully done today by companies like Pandora, Netflix, and Amazon and he believes that this will revolutionize bank offerings and relationships. Philips is Professor of Professional Practice at Columbia Business School and Founder of Nomis Solutions.
David Hornik is a venture capitalist who has been named to the Forbes "Midas List" as one of tech's top investors. Hornik will discuss how big data has gone from a nice-to-have to a must-have throughout the business technology landscape. His presentation centers around the many ways in which big data is transforming businesses in which he and his fellow Sand Hill Road VCs are investing. He will describe the shift from data-rich applications to what he calls "Data as a Platform." Hornik is a General Partner at August Capital and was recognized as 2013's Silicon Valley Venture Capitalist of the Year.
Additional conference highlights include best-practice presentations, peer sharing, and networking as thought leaders, banking executives, and practice professionals engage in meaningful discussions to help each other develop successful strategies to navigate a world of increasingly complex customer relationships. The event features two days of case studies, presentations, and panel discussions from leading banks and financial services companies from across the globe. These include a leading Canadian bank, a large UK Financial Services organization, a large US regional bank, and one of the largest South African banks. Forum participants will engage, interact, and discuss the key advantages, benefits, and challenges that financial services institutions face when moving towards pricing approaches based on customer value.
A new addition will be free-form discussions modeled on Mr. Hornik's Lobby "un-conference." The sessions seek to maximize open conversation and nurture long-term relationships in a relaxed format.
To find out more about the forum, register to attend or inquire about sponsorship, visit the 2014 Nomis Forum site.
Tweet this: News: 2014 Nomis Forum Discussions around #BigData & dev win-win products & #pricing for #banks @davidhornik @meier_steph . #bigdata #fintech #analytics
About Nomis Solutions
Nomis Solutions provides best-in-class pricing and profitability technology for financial services companies. By combining a big-data platform with advanced analytics, innovative technology, and tailored business processes, Nomis delivers quick time-to-benefit and improves financial and operational performance throughout the customer-acquisition and portfolio-management processes. In over 50 implementations, Nomis customers have optimized over $600 billion in banking transactions and generated over $600 million in incremental profits.
Headquartered in San Bruno, CA, Nomis Solutions also has offices in Toronto and London. Visit http://www.nomissolutions.com or contact us at info(at)nomissolutions(dot)com or 1-650-588-9800 or +44 0207 812 7251.