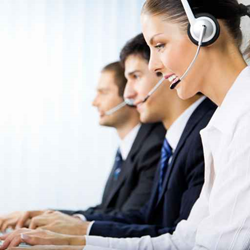 $4.7 billion in overdraft charge-offs annually by Financial Institutions... Overdraft Control can resolve 55% of those accounts
San Deigo, Ca (PRWEB) May 06, 2014
There is a new Overdraft Control Service (OCS) that some of the nation's top banks are already using. Customers receive a call or notice from their bank after the account has been overdrawn for more than two weeks, this is the consumer bank's back office attempting to retain customers and bring accounts up-to-date. Many of those customers ignore the written attempt, or just do not have sufficient funds to solve their overdraft in the 30-45 days the bank requires to keep a good standing account. A study by FDIC estimated check card and bounced check fees were approximately $31.9 Billion in 2013. A CFPB (Consumer Financial Protection Bureau) report in 2013 estimated over 6% of checking account customers are involuntarily losing their banking privileges as a result of overdraft balances exceeding 45 days.
Major banks have evolved their overdraft practices by calling customers in addition to letter notifications (i.e. JP Morgan Chase, Bank of America, Citibank, and Wells Fargo who represent more than 37% of the retail deposit banking industry in a 2013 FDIC Statistics on Depository Institutions report). The traditional policy of retail banks is to close accounts when balances are overdrawn 45 to 60 days. Providing attention to overdraft accounts is proving positive at avoiding account closures. When customer accounts are closed, customers are unable to cash checks, use their bankcard or reopen a new account for one to two years and only if their outstanding balance is paid-in-full.
When accounts are closed due to outstanding balances that occur from overdraft charges and NSFs, the customer information is sent to Chex Systems and marked on a database for up to two years, making it difficult for consumers to re-establish banking services. Many major banks will not open a new account if you have a negative score on Chex Systems. Some smaller banks and credit unions often do not use Chex Systems and will allow customers to open an account, but they are becoming rare, as overdraft charge-off accounts represent approximately 16% of bank losses on average in the 2013 CFPB Study on Overdraft Programs.
Overdraft Control is a solution for many banks and their customers. It's best to avoid overdrafts all together to maintain banking privileges. However, many customer accounts are closed without being aware of the banks policies about maintaining a positive account balance. The new Overdraft Control Service informs customers of bank policy and helps banking customers retain their account with communications before the account is closed.
Overdraft Control's goal is to maintain customers. OCS works with banks to provide an extended grace period that allows customers to pay overdraft balances beyond the current 45 day period. As of 2013, 88.3% or 212.1 million U.S adults retain a checking account as referenced in the FDIC report. The CFBP study shows approximately 6% or 12.4 million adults lose their checking accounts annually - often involuntary closures due to outstanding overdrafts. Overdraft Control's internal reports and CFPB's average overdraft balance at account closure are similar, $375.00. This equates (when unattended) to $4.7 billion in overdraft charge-offs (losses) annually to Financial Institutions. Overdraft Control internal reports show a historical resolution of 55% when accounts are manage for 30-90 days. Accounts are resolved by communicating with customers before they are charged-off by establishing a plan to resolve outstanding NSF's.
Overdraft Control adds no additional cost to the customer and creates net gains for the bank. Overdraft Control is beneficial for the bank's back office as OCS reduces costs and only employs overdraft resolution specialists. When established terms are not met, banking accounts may still be put on a temporary suspension until the balance is up-to-date. If no resolution is achieved in 90 days, traditional Overdraft Collection may be required.
Account retention is a challenge and an opportunity for banks. Banks "going the extra mile" and calling or attempting to preserve the checking account can fuel customer relationships. In a 2010 article from ABA Bank Marketing | July-August, Keep Customers From Flying The Coop, the author suggests banks chose their retention strategies among seven categories. Of these, the Overdraft Control Service covers five of them: Communication, Education, Differentiation, Conversation, and Adoration. Banks do not need to export any additional consumer relationships to the unbanked/check-cashing providers.
Not all banks have the same policies and procedures regarding overdraft charge-offs. Many institutions may only allow 30 days to bring accounts current after suspension. The Overdraft Control Service is a much more customer-centric alternative to Chex Systems and a Collection Agency/Credit Bureau. JP Morgan Chase and other consumer banks have implemented some of the processes and policies of Overdraft Control but do not allow customers to retain accounts after 45 days. They only inform customers of a overdrawn balance and verbalize the importance of bringing the account up-to-date. OCS estimates nearly 60% of banks don't provide verbal reminder services to customers before accounts are closed.
Customers can suggest to their financial institution to consider Overdraft Control however it is the sole discretion of each bank or credit union to implement OCS. Regarding implementation, Overdraft Control policies are typically active in within 15 days or less. For more information on Overdraft Control and estimates on banking revenue visit http://www.overdraftcontrol.com.