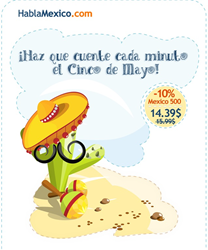 To celebrate Cinco de Mayo, HablaMexico.com started a fight against Mexico 500 monthly plan rates, whose outcome was a 10% discount.
Atlanta, Georgia (PRWEB) May 02, 2014
Cinco de Mayo, a day that celebrates the Mexican culture and achievements, is also a joyful day on HablaMexico.com: 10% discount for Mexico 500 monthly plan. This way, people with Mexican background will have the opportunity to share their pride and honor the memory of their ancestors talking more to their family and friends back home.
The festive Mexico 500 monthly plan, offering 500 minutes, will cost only $14.39 for the first month, calls to mobile phones in Mexico being as low as 2.88 cents/minute. The offer is valid starting May 5th and lasts until May 7th, the discount applying only to the first subscription month.
HablaMexico.com also provides Mexico 1000 monthly plan, offering 1000 minutes to those willing to share longer stories. Monthly plans work as a subscription, automatically renewed after 30 days. Thus, the customer is charged directly on his or her credit or debit card, without having to go back to the website or even turn on the computer for a purchase. Also, customers may cancel the subscription anytime, with no penalties.
Besides attractive rates, HablaMexico.com offers free features that make the calling experience easy and intuitive:PINless dialing (once activated, entering PIN is no longer necessary), Speed dial (assigning phone keys to the numbers called frequently, dialing is reduced to pressing a phone key).
Customers may also use iOS and Android applications to place their calls, without having to dial any access number first, and even any phone number at all. Destination numbers do not have to be remembered and dialed digit-by-digit. To this purpose, customers can use their phone Contacts list.
In addition to monthly plans, HablaMexico.com offers Voice Credit, a prepaid service for international calls and SMS. Customers may also access the Virtual Number service, a monthly subscription for the benefit of people back home. Thus, anyone calling the customers' Virtual Number will pay the regular rate of a local call. Moreover, customers may recharge the mobile phones of family and friends via Mobile Recharge service, also available on HablaMexico.com. All within the same purpose, of keeping a close relationship with family and friends, no matter the country the customers live in.
Transactions are safe due to several security filters protecting the customers from possible frauds. All major payment methods are accepted: Visa, MasterCard, American Express, Discover and PayPal. The customer-focused approach, based on safe and easy to use services, is acknowledged by the customers' reviews as well: "Fast, efficient, totally trustworthy and easy to use product." (art-75960 on ResellerRatings.com), "Good prices, excellent service. I had to call customer service once, and it went very well: the answered the phone right away and helped me out." (alexyandukin on ResellerRatings.com)
About HablaMexico.com
HablaMexico.com is an interactive website designed by KeepCalling, a global telecommunications company registered in 2002 in USA. KeepCalling services are available worldwide from any computer with an Internet connection. KeepCalling, the company behind HablaMexico.com, offers other telecom solutions apart from Voice Credit and calling plans: Mobile Recharge, Virtual Number, through various ethnic websites. Presently, KeepCalling provides its services to over 200,000 consumers and businesses, with a focus on customer satisfaction. In 2013, Inc Magazine listed KeepCalling as the 16th fastest growing company in the telecommunications industry.