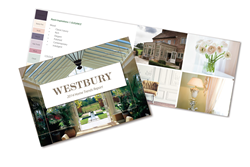 This report reflects the developing ways in which modern homes are used and offers homeowners inspiration for creating more space and light...
(PRWEB UK) 7 May 2014
Understanding today's key macro trends and how they impact on the way we live in and enjoy our home space has driven the growth in extensions. The Westbury Garden Rooms Home Trends Report identifies three trends that are shaping the use of extended home space, as well as three new colour palettes for interiors:
# 1: Sharing
With an ageing population, we learn to share our space and activities across generations, grouping and defining society by common values rather than age. Our busy lifestyles increasingly teach us to value quality time together and as such, homes provide a cross functional setting in which grandparents, parents and children alike can enjoy family life together in an open plan living space.
# 2: New status
The post-recession new status means we're re-evaluating what makes us happy or successful. 54% of Britons say their stress levels are rising and 40% of women can't say "I'm happy". With a new perspective on our emotional well-being, quality time at home has become a priority. Garden rooms let natural light flood in to lift the spirits and connect you with the outside - while extra space affords simple, happy pleasures like home entertaining. This trend is all about a strong emotional investment in your home.
# 3: Craftsmanship
In an age where there is a high level of environmental concern, people are investing in products that are made to last. In turn, this has led to a heightened admiration and desire for true craftsmanship. Customers often develop an emotional connection with these products; engaging with the story that tells of the product's heritage and roots.
Three new colourways for 2014/15
The Westbury Garden Rooms Home Trends Report also revealed three colour palettes specially created for open plan living spaces. These 2014/15 palettes are designed to extenuate the sense of light and space while suggesting tones and textures that blend perfectly with the classical lines and proportions of the buildings:
Nature Prescription: true and tinted neutrals with soft blue highlights combine to make a cool palette which complements warm wood tones perfectly
Elegance: pastel pinks, deep purples, creams and nudes make an elegant palette perfect for creating a sophisticated interior
British Heritage: wholesome, mossy greens combined with soft neutrals bring a traditional British feel to interiors, complementing rich woods, tiling and copper fixtures.
Jonathan Hey, MD and founder of Westbury Garden Rooms said: "This report reflects the developing ways in which modern homes are used and offers homeowners inspiration for creating more space and light and interior décor which is sympathetic to the design."
The Westbury Garden Rooms Home Trends Report is available at http://www.westburygardenrooms.com/htr2014/

For more information please contact:
Alex Harbour / Ali Cort
alex.harbour(at)browsermedia(dot)co.uk / ali.cort(at)browsermedia(dot)co.uk
0207 099 0945
Denise Doran / Katherine Felton
denise(at)westburygardenrooms(dot)com / katherine(at)westburygardenrooms(dot)com
01245 326 508 / 01245 326 518
Note to editors
About Westbury
Westbury Garden Rooms was founded over 25 years ago by Managing Director, Jonathan Hey. During this time, Westbury has developed an impressive reputation across the UK for design, quality and durability in bespoke garden rooms, orangeries, pool houses and roof lanterns.
Based in Essex, but designing and building garden rooms across the country and throughout Europe, Westbury is a privately owned company, employing over 50 staff. This includes a full time team of ground workers, carpenters and electricians to ensure that every aspect of a client's project meets Westbury's exacting standards. In fact, Westbury ensures that all elements of the project, from start to finish, are taken care of in-house, including architectural design, planning permission as well as the build itself.
On average, Westbury completes around 50-60 projects every year ranging from smaller suburban installations to large orangeries or pool houses where luxury is imperative and more substantial budgets are necessary.