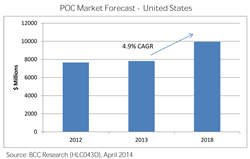 Global Market for P.O.C. Diagnostics to Reach $19.3 Billion in 2018
Wellesley, Mass. (PRWEB) May 01, 2014
BCC Research (http://www.bccresearch.com) reveals in its new report, POINT OF CARE DIAGNOSTICS, the global market for point of care (POC) diagnostics is expected to grow to nearly $19.3 billion by 2018, with a five-year compound annual growth rate (CAGR) of 4.5%. The United States (U.S.) market, the fastest growing regional segment overall, is growing at a steady 4.9% CAGR.
Rising healthcare staffing shortages, technological advances, and increasing consumer demand and acceptance of POC technology is driving significant growth in the global POC diagnostics market. The U.S. market is expected to reach $9.9 billion by 2018.
The international market, which is projected to reach $9.3 billion and register a 4.1% CAGR, is being spurred by increasing need for the management of chronic diseases, improving access to healthcare, and a steadily improving global economy.
"Over the last decade, more diagnostic tests have been performed at patients' bedsides in hospitals, in physicians' office laboratories, outpatient clinics, emergency rooms, and intensive-critical-care units," says BCC Research healthcare analyst Melissa Elder. "The wider availability of POC testing has revolutionized the continuum of the patient-care process by providing laboratory results rapidly and efficiently at these locations. The trend toward greater POC testing is driven by the faster diagnostic benefits it provides."
POINT OF CARE DIAGNOSTICS provides an overview of the global market for POC diagnostics, including analyses of global market trends, with data from 2012 and 2013, and estimates and projections of CAGRs through 2018. The report discusses factors driving the market, such as staff shortages, older populations, long-term cost savings, and need for faster diagnosis and care. It also looks at how availability of POC testing has revolutionized the continuum of the patient-care process.
This report is intended for all the stakeholders of the near-patient diagnostic testing market, including diagnostic test manufacturing companies, medical supply vendors, hospitals, physician offices and groups, development companies, and other involved participants.
Editors and reporters who wish to speak with the analyst should contact Steven Cumming at steven.cumming(at)bccresearch(dot)com.
About BCC Research
BCC Research publishes market research reports that make organizations worldwide more profitable with intelligence that drives smart business decisions. These reports cover today's major industrial and technology sectors, including emerging markets. For more than 40 years we've helped customers identify new market opportunities with accurate and reliable data and insight, including market sizing, forecasting, industry overviews, and identification of significant trends and key competitors. We partner with analysts who are experts in specific areas of industry and technology, providing unbiased measurements and assessments of global markets. Our clients include the top companies in industries around the world as well as universities, business schools, start-ups, consulting firms and investment companies. BCC Research is a unit of Eli Research LLC. Visit our website at http://www.bccresearch.com. Contact us: (+1) 781-489-7301 (U.S. Eastern time), or email information(at)bccresearch(dot)com.
Data and analysis extracted from this press release must be accompanied by a statement identifying BCC Research LLC, 49-2 Walnut Park, Wellesley, MA 02481, Telephone: (+1) 781-489-7301; Email: editor(at)bccresearch(dot)com as the source and publisher. Thank you.