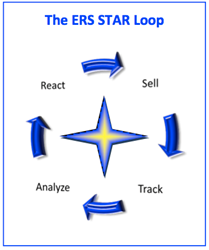 This year we are honored to make a presentation focused on something we lead the industry in- retail analytics. -Jim Lewis, CEO Enhanced Retail Solutions
Westborough, MA (PRWEB) May 06, 2014
Many companies pass on taking the EDI 852 Point of Sale Document from retailers because it is not a straightforward document and differs from retailer to retailer - even though a "standard" exists. Or they harvest huge amounts of store level data only to face the question of what to do with all that data.
Translating the document and integrating it with data from other sources (ERP, PLM, Census Data, etc.) enables companies to gain greater insight into how their items sell, where they sell and where they don't - To find opportunities that would otherwise go unnoticed. It can be said that this document, which has been available for several decades, allowed companies with strong vision to be the first to take part in what we now term "Big Data". Simply put, blending data together and letting software do the heavy lifting to provide actionable insight. While the process wasn't so simple ten years ago, with today's advanced tools, it's easier than ever. Here's a sneak peek at what companies like Enhanced Retail Solutions are doing with this document:
1. Improve Sales, Profit and Inventory Tracking- Chain level reporting isn't enough anymore to really maximize sales and profit. There are always subsets of skus or store locations that do better than others and finding their common characteristics can be applied to the rest of the chain.
2. Uncover Opportunities and Liabilities- Tell the buyer something they don't know by creating reports that highlight exceptions- by sku, by location. Provides a priority list of where to take action to immediately start improving the business.
3. Demographic Profiling- Integrate US Census data by store location to uncover if any demographic characteristics such as age, sex, ethnicity, income or education play a role in item performance, without creating any privacy issues. Great for product testing and comparing performance of similar items between different retail chains.
4. Improve Demand Planning Accuracy- Maybe the most important of all- the need to predict future sales and the inventory required to maintain the rate of sale, can be significantly improved by integrating POS, seasonality profiles and stock position by store.
5. Improve Future Assortments- Using the data for hindsight can prevent one from making the same mistake twice. From fixing a size scale issue to balancing colors and items, cataloging past trends for future use can provide a substantive benefit.
The fundamentals of retail have not changing in thousands or years- having the right product at the right time in the right place. But the ability to predict that has never been better. Even improving inventory productivity by 5% can translate to millions of dollars.
According to Jim Lewis: "As a data analytics company, we have found NEECOM (New England Electronic Commerce User Group) to be beneficial in not just learning about innovation and new technologies, but networking. This year we are honored to make a presentation focused on something we lead the industry in- retail analytics".
About Enhanced Retail Solutions LLC:
Enhanced Retail Solutions is software and consulting firm specializing in retail analysis and demand planning for manufacturers, licensors and their retail partners. ERS' state of the art software tools and consulting deliver critical data quickly, easily and cost effectively, adding over one hundred million dollars to their clients' bottom line. ERS' broad customer base includes industry leaders in the electronics, consumer products, apparel, footwear, home textile, toy, home décor, home improvement, housewares, jewelry and food industries. Headquartered in New York City, Enhanced Retail Solutions has offices in the Dallas, TX and development in the US, Cork, Ireland and Delhi, India. For more information, visit http://www.EnhancedRetailSolutions.com.
About NEECOM:
The New England Electronic Commerce Users' Group (NEECOM) is a nonprofit organization established in 1990. Its members are large and small organizations in a variety of industries including manufacturers, distributors, retailers, hospitals, insurance companies, motor carriers, universities, banks and government agencies. The common thread is their interest in EC/EDI and related technologies. For more information, visit http://www.neecom.org.