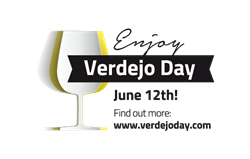 New York, NY (PRWEB) May 01, 2014
The C.R.D.O. Rueda announced today that the first annual 'Verdejo Day' in the United States, a day dedicated to celebrating the indigenous varietal of Rueda, will take place on June 12th. This day comes at a time of growing interest in Verdejo wines and Rueda, as a region, in the US.
Having grown from a regional white wine favorite to Spain's favorite white wine, Rueda wines are now poised to expand their growing popularity in the United States.
"Rueda wines are already the favorite white wines in Spain, and we hope that Verdejo Day will help introduce more Americans to these delicious and versatile wines," said Dr. Ramon Bocos Ruiz, Secretario General of C.R.D.O. Rueda. "We picked June 12th because our crisp refreshing Verdejo wines are perfect for spring and summer months. We believe that once Americans taste Rueda wines, they'll love them as we do in Spain and make Rueda their go-to white wine."
Verdejo Day will be celebrated nationwide with simultaneous Verdejo Day parties open to the general public in four major markets: New York, San Francisco, Chicago, and Miami on June 12th, 2014. Verdejo Day will be supported with a fully integrated communications campaign including social media, advertising (print and digital), point of sale promotions and media relations with Colangelo and Partners Public Relations.
Please visit http://www.winesofrueda.com for more information on D.O. Rueda and Verdejo Day.
About the D.O Rueda
The Rueda Denomination of Origin, the first in the region of Castilla y León, was founded in 1980. Verdejo is the predominant variety in the D.O. while Sauvignon Blanc, Viura and Palomino Fino are also prevalent. The 2012 harvest, a record for Rueda, boasted a total grape production of 77,764,696 kilograms with approximately 13,000 hectares under vine. White varieties represented 98% of the production in 2012 while Verdejo accounted for over 85% of the total crop. Rueda, is on a high plateau with a classic continental climate: long cold winters, short springs, and hot summers. The high elevations (between 2500 and 3000 feet) allow the late maturing Verdejo to develop deep aromas and flavors resulting in dry, fresh wines with great character and brightness. Dark grey-brown rocky soils, rich in calcium and magnesium with good ventilation and drainage, provide textures that vary from sandy-loamy to loamy. This geological substratum has led to the typical gravelly soils present in the best vineyards in the D.O. Rueda. Currently 40 producers export their wines to the US.
About Colangelo & Partners Public Relations
Colangelo & Partners Public Relations (CPR) is a midtown Manhattan-based public relations and integrated communications agency specializing in food, wine and spirits. Boasting long established relationships with the key press that drive these business categories and help determine the industry's leading brands, CPR continually creates unique story lines that are consistent with the clients' brand strategies in order to provide a steady stream of compelling content to journalists and keep them in the news. A finalist in the prestigious 2013 PR News 'A List Awards' in the integrated communications category, CPR utilizes social media, web marketing, advertising and promotions to build campaigns that establish brand strength and drive sales.