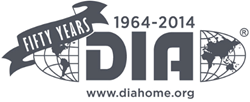 "As recruiting and sustaining investigators remains a priority for industry research, the session will examine successful collaboration and discuss ideas for increasing participation in clinical development."
Washington (PRWEB) May 01, 2014
Leaders in industry and research will examine the challenges and solutions in collaboration to streamline drug development at the DIA 2014 50th Annual Meeting at the San Diego Convention Center from June 15 to 19. "Collaborating to Streamline Drug Development: Case Studies of What Works (and What Doesn't)," at 1:30 p.m. on June 17, will provide real-world examples of successful and not-so-successful industry-led research collaboration to bring greater efficiency to the drug development process.
Obstacles to industry research collaboration include the slow enrollment of investigators and participants, limited sharing of data across trials and the cost and time required to develop a new drug. The session will feature worldwide experts from prominent collaborative arenas providing insight into how industry partners can work together to reduce the length and costs of the development cycle and enhance the quality of its outcomes.
"As recruiting and sustaining investigators remains a priority for industry research, the session will examine successful collaboration and discuss ideas for increasing participation in clinical development," said Barbara L. Kunz, DIA global chief executive. "Global leaders will also explore the impact of new models of health care delivery, such as electronic medical records, that could potentially impact collaboration."
Chaired by Douglas Peddicord, executive director of the Association of Clinical Research Organizations, the forum will feature presentations by Dalvir Gill, CEO for TransCelerate Biopharma Inc.; Christine Pierre, founder and president of the Society for Clinical Research Sites; Pamela Tenaerts, executive director of the Clinical Trials Transformation Initiative; and Ann Meeker-O'Connell, senior director for Janssen Pharmaceuticals, Inc.
ABOUT DIA: DIA is the global connector in the life sciences product development process. Our association of more than 18,000 members builds productive relationships by bringing together regulators, innovators and influencers to exchange knowledge and collaborate in an impartial setting. DIA's network creates unparalleled opportunities for the exchange of knowledge and has the interdisciplinary experience to prepare for future developments. DIA is an independent, nonprofit organization with its global center in Washington, D.C., USA, and regional offices covering North and South America (Horsham, Pa., USA); Europe, North Africa and the Middle East (Basel, Switzerland); and Japan (Tokyo), India (Mumbai) and China (Beijing). For more information, visit http://www.diahome.org.
ABOUT DIA's 2014 50th ANNUAL MEETING: Celebrate the Past – Invent the Future is the largest multidisciplinary event that brings together a community of life sciences professionals at all levels and across all disciplines involved in the discovery, development and life cycle management of medical products. The meeting aims to foster innovation that will lead to the development of safe and effective medical products and therapies for patients. For more information, visit http://www.diahome.org/dia2014.