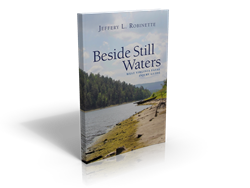 It is wise to seek legal advice early on in the claim process to prevent your legal rights from being lost or compromised.
Morgantown, WV (PRWEB) May 13, 2014
West Virginia Wrongful Death Attorney Jeff Robinette has released a new book, Beside Still Waters: West Virginia Fatal Injury Guide, which provides surviving family members the information they need in order to move forward after tragedy and to enable them to rebuild a financial future for themselves and their children.
When a premature and wrongful death occurs in a family, the entire family structure is shaken to the core. The family is not only deeply impacted emotionally, but also financially, especially when the primary income earner is the one who has been prematurely taken in death. In West Virginia, this most often involves oil and gas drilling industry workers and contractors, co al miners, construction workers, and truck drivers.
When an individual is fatally injured, that person's rights are not cut off at the time of death. Their rights and obligations are carried forward as part of their estate, and their family is left to sort it all out and will naturally have many questions.
When a "wrongful" death occurs, two common questions arise from the ones left behind: "Who has the right to bring a wrongful death lawsuit," and "Who is entitled to recover for their losses?"
This is the purpose of Beside Still Waters: to provide surviving family members with essential information to enable them to make wise decisions in order to maximize their efforts to rebuild their lives.
If you believe the information and insight provided in Beside Still Waters would be of benefit to you, we would like to provide a copy free of cost to you. Just visit our website and click the link to order your copy at no cost or obligation, and it will be sent within seconds to your inbox. Click here to order your copy now.
About the Author:
Jeff Robinette is a West Virginia personal injury lawyer with decades of experience in handling fatal injury claims, also known as "wrongful death" claims. Prior to representing injured individuals exclusively, Mr. Robinette was a partner in a major West Virginia law firm where he focused his law practice on defending serious and fatal injury claims. He now devotes his entire law practice to representing injury victims -- with a focus on fatal injury claims.
Mr. Robinette has handled hundreds of serious, catastrophic, and fatal injury claims caused by motor vehicle collisions and unsafe working conditions -- the two leading causes of fatal injuries in the United States.
He also has handled a significant variety of fatal injury claims caused by other means such as: airplane crashes, vehicular collisions with motorcyclists and pedestrians, underground coal mine explosions and equipment malfunctions, surface mine operations, carbon monoxide exposure, heavy equipment and timbering operations, structural steel construction, commercial and residential construction, electrical power plant operations, electrocution from electrical transmission line construction, fatalities from electrical burns and fire burns, defective equipment and defective consumer products, swimming pool drowning, recreational boating collision, and violent criminal acts.
Mr. Robinette is a former editor and contributing author of the West Virginia Law Review, and is a leading author on West Virginia injury victims' rights. In addition to this title, Beside Still Waters: West Virginia Fatal Injury Guide, he has authored several other resources for injury victims including:

Collision Care: West Virginia Auto Injury Guide
Righting the Wrong: West Virginia Serious Injury Guide
Mr. Robinette is a life-time member of the Multi-Million Dollar Advocates Forum and Elite Lawyers of America, whose memberships are limited to personal injury lawyers who have attained multiple, multi-million dollar recoveries for personal injury victims. He is a former Adjunct Instructor on Appellate Advocacy at West Virginia University College of Law.
Jeff Robinette is also an U.S. Army veteran, serving as an artillery, intelligence, and psychological operations officer, and was an accomplished paratrooper (Jump Master Qualified) in the acclaimed 82nd Airborne Division.
Mr. Robinette is the founding member of Robinette Legal Group, PLLC, a personal injury law firm devoted to advocating the rights of injured people throughout West Virginia. You can learn more about Robinette Legal Group, PLLC when you visit our website.
Questions? The attorneys at the Robinette Legal Group, PLLC, a Morgantown, WV Personal Injury Law Firm answer questions like yours every day. Call today 304-594-1800 or after hours, 304-216-6695 or visit our website for 24/7 chat line.