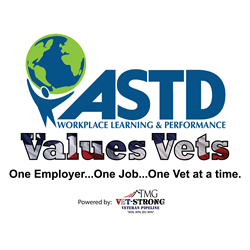 Alexandria, VA (PRWEB) May 01, 2014
The American Society for Training & Development (ASTD) announces a new partnership with TMG, Inc. to support the ASTD Values Vets Program, powered by TMG's Vet-STRONG family of products and services. The ASTD Values Vets Program will launch at the upcoming ASTD 2014 International Conference & Exposition in Washington, D.C. from May 4-7, 2014. The program's mission is to provide motivation, education, training, coaching, and recognition for employers desiring to re-capitalize their workforce with veterans by developing and implementing a "veteran pipeline" to supplement their existing recruiting, hiring, and retention systems.
The partnership brings the strengths of both organizations to bear on the critical need to get veterans working for companies that need their unique skills and talents. ASTD is the world's largest association dedicated to the training and development field and TMG is an expert in the design, development, implementation, and transition of Talent Acquisition and Retention Systems. Over the last two years, TMG has trained more than 775 employers on how to recruit, hire, train, and retain veterans, which directly aligns with and supports ASTD's mission of empowering professionals to develop knowledge and skills successfully. Employers are seeking great talent, and America's veterans are seeking employers who value their knowledge, skills, and abilities.
The ASTD Values Vets team will launch the program with a 30-minute informational session on Wednesday, May 7, and will provide individual employer Vet Ready Assessments during the conference at their booth on the EXPO floor from May 5-7. The TMG, Inc. booth is #138.
To attend the ASTD 2014 International Conference & Exposition or to learn more about the event, visit http://www.astdconference.org.
About ASTD:
ASTD (American Society for Training & Development) is the world's largest association dedicated to the training and development profession. ASTD's members come from more than 100 countries and connect locally in more than 120 U.S. chapters and with more than 10 international strategic partners. Members work in thousands of organizations of all sizes, in government, as independent consultants, and suppliers. Started in 1943, in recent years ASTD has widened the profession's focus to link learning and performance to individual and organizational results, and is a sought-after voice on critical public policy issues.
About TMG:
Training Modernization Group is a registered Veteran Owned Small Business and recognized as a Leader in Human Performance Systems including Strategy Development, Analysis, Design, Development, and Implementation as evidenced by the awards and recognitions received by the American Society of Training and Development (ASTD) and consistent near perfect business performance over 12 years. Our partners include Huntington Ingalls Industries - Newport News Shipbuilding, TESCO, Standfast Packaging, Mar-Bal, Alcoa HOWMET, Kimberly Clark, BAE Systems Ship Repair, L-3 Communications Army Fleet Support, Ball Metal Container Operations, Minerals Technologies, Measurement Specialties, Earl Industries, Liebherr Mining Equipment, and the Commonwealth of Virginia.