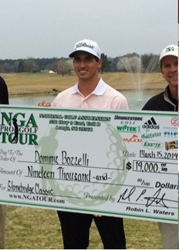 It's amazing to see the genuine satisfaction Ryan and his staff get from seeing their clients reach their goals and achieve new heights.
Rochester, NY (PRWEB) May 06, 2014
As golf's on-season has already begun and will continue throughout the summer months, FORE Performance's team of golf specialists remind their athletes of the critical role that sport-specific training plays in gaining the competitive advantage for the game. While many amateur golfers relinquish their indoor training regimen for more playtime come warmer weather, FORE Performance's athletes have experienced the positive difference made by strength and conditioning in getting them into peak physical shape for competing at the next level.
FORE Performance has shifted gears with the onset of spring, refocusing its attention on preparing student athletes to maximize performance for on-season competition. The company's sport-specific strength and conditioning programs help its young golfers endure the grueling nature of the competitive season, reducing their risk of injury while advancing their skill and form to prepare them for the next level in collegiate and professional golf. With its advanced training programs, equipment, and golf instruction, FORE Performance has facilitated a promising outlook for many of its student athletes, some who have already gained noteworthy achievements that validate FORE's training regimen as a significant factor for performance.
Amongst its many driven and talented young athletes is Dominic (aka Dom) Bozzelli, a 22-year old golfer who became the first student athlete to win back-to-back golf tournaments at Auburn University. This spring Dom demonstrated peak performance with the help of FORE Performance's indoor conditioning, winning 3 straight pro-golf tournaments during the NGA Golf Tour this past March. The accomplished young athlete has worked with golf fitness professional and certified strength and conditioning coach Ryan Steenberg, the founder and owner of FORE Performance, for nearly two years.
Dom reports, "I have been training with Ryan at FORE Performance for the last couple years, and it has been an incredible experience. The facility is first class, it's a positive training environment, and Ryan has helped maximize my body's potential to take my game to the highest level. It's amazing to see the genuine satisfaction Ryan and his staff get from seeing their clients reach their goals and achieve new heights. I have yet to see a better all-around personal performance facility in Rochester."
FORE Performance's training center and equipment has proven to be useful not only to golfers, but moreover for the athletic conditioning of a variety of other sports, including football. One of the most recent non-golf-affiliated athletes to train at the facility is Rickey Stevens, an award-winning Running Back at the University of Maine originally from the Rochester area. Rickey stayed in Rochester this past March to train for his NFL pro day at FORE Performance's athletic complex, working on a progressive regimen of speed, power, and strength training over an intensive 3 month schedule. He proceeded to have a successful showing in his NFL pro day and CFL pro day's posting speed and strength numbers that rivaled this year's elite recruits. Of those numbers a personal best 3.97 pro agility.
The staff of FORE Performance encourages the parents of developing young athletes to sign their sons and daughters up for the summer strength and conditioning program to see for themselves how the training helps children and teens unleash their potential. Ryan exclaims, "We cannot express the level of excitement we all share for the success of our young champions. To share in their personal development and athletic success is rewarding and helps energize us to further continue sharing the experience with others."
For more information on FORE Performance or its on-season training programs, contact owner Ryan Steenberg or visit: http://www.foreperform.com/.
About FORE Performance:
FORE Performance is an indoor golf-specific training and sports specific conditioning facility located in Rochester, New York. The owner, Ryan Steenberg, founded the business in 2010 and recently opened the state-of-the-art golf and sports club in November of 2013. The training facility offers innovative technology, top-of-the-line equipment, and professional instruction, enabling golfers and competitive athletes alike to maximize their potential and reach peak physical shape for the game.