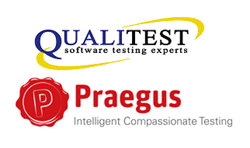 (PRWEB) May 02, 2014
QualiTest Group announced today their upcoming partnership with Dutch software testing company Praegus. This partnership is to enforce QualiTest Group's All-Shore proposition by leaving their local Netherlands operations to Praegus whilst, QualiTest will provide value through its global offshore locations. By joining forces, Praegus and QualiTest can offer complete end to end test solutions for both the local market and customers worldwide.
This partnership is expected to offer Dutch customers additional value through cost-effective testing solutions as well as thought leadership consultancy. This partnership enables QualiTest Group to provide All-Shore Testing Services with particular emphasis on offshore solutions through its test centers in India. Praegus will be able to serve more customers by providing test consultancy services to QualiTest Group's existing customers in Netherlands.
According to Marte van Balen-Zonderland, Director of Praegus, "We are proud that QualiTest has chosen Praegus for this partnership. For Praegus, this means a step ahead for both local and international markets. Besides that the partnership broadens our scope of test solutions. With confidence, we look forward to this ambitious partnership."
"We are happy and confident that Praegus will continue to deliver QualiTest's commitment to quality and will complement our offshore testing solutions. This partnership will help QualiTest to focus and accelerate on our global strategy of becoming the world's number one pure play testing company," states Ayal Zylberman, President, QualiTest Group.
About QualiTest Group
QualiTest Group is the world's second largest software testing and quality assurance company. Through QualiTest Group's 1800 software testing professional and 14 test locations, it is committed to improving quality by providing superior QA solutions and advanced methodologies to customers and partners worldwide. QualiTest Netherlands was formed in 2007 and further acquired Dutch companies Plusfort and Four Oaks in 2011. QualiTest now has decided to lead their Netherlands business through a centralised model by leaving the local Dutch operations to Praegus. More details can be found at http://www.QualiTestGroup.com.
About Praegus
Praegus is a Dutch software testing consultancy which was founded in the beginning of 2011 and provides services mostly to local customers with expertise in the field of Testing, specializing in test automation. Within its service, Praegus offers a full service testing model, including secondment, consultancy, projects, and training in the area of test automation, mobile and web testing, and performance testing. Praegus operates in the testing industry as a niche player. Praegus is active in the fields of government, utilities, automotive, media, and finance. It currently employs 22 test professionals and is growing fast. More information is available at http://www.praegus.nl.