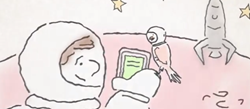 As a medium, animation is highly effective for developing promotional messages.
Ann Arbor, Mich. (PRWEB) May 02, 2014
To help promote myBeaumontChart — an application that helps patients manage appointments, prescriptions, and medical records — Beaumont Health System's agency of record, The Curtis Group, developed an animated video for use on Beaumont's website, social media channels, and the hospital's patient education TV system.
Working in tandem with Hile Creative, an Ann Arbor-based creative firm, The Curtis Group developed the concept, artwork, and scripts for 30- and 60-second versions of the animation. Hile Creative's animation specialist worked with static images to give them movement, then added Beaumont's signature music and vocal talent to complete the commercial.
"The print materials we've developed for myBeaumontChart feature cartoon-like characters," said Paige Curtis, President of The Curtis Group. "To keep the video aligned with these materials, we used the same characters. Overall brand consistency was also a key consideration, which is why we leveraged Beaumont's recognizable vocal talent and music. Early reactions to the animation have been overwhelmingly positive."
Dave Hile, President of Hile Creative, added, "Working with The Curtis Group to develop this animation has been rewarding. As a medium, animation is highly effective for developing promotional messages. Often, it evokes a sense of playfulness and artistry that can't be matched by live-action video. It turns heads, cuts through the clutter, and gets people to pay attention."
Click here to watch the 60-second animation on YouTube.
Hile Creative is an Ann Arbor brand development and creative design firm that has served businesses of all sizes for three decades. To learn more about Hile's full range of integrated services, including web design and development, branding, and advertising, visit http://www.hilecreative.com.