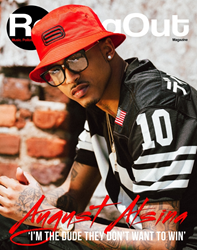 I realized my heart was too big to continue selling drugs.
Atlanta, GA (PRWEB) May 01, 2014
Life appears to be good for August Alsina. While being photographed in a dilapidated area on the west side of Atlanta, Alsina cracks a boyish grin that's indicative of a young man enjoying the best days of his youth.
In this moment, his smile suggests that he's free of any care in the world. But when taking a deeper look, Alsina's eyes tell a different story. He sees everything around him, but never stares too long. At times he can seem guarded, but it's not due to a lack of being personable.
He's 21 and has experienced things of a man twice his age.
In this week's edition of rolling out, music editor Amir Shaw sits down with Alsina to discuss what life was like for the New Orleans-bred artist before his hit songs, the sold-out concerts, media tours and the Def Jam contract.
"I remember giving this girl a crack rock," Alsina said during our interview. "She wanted to try it before she bought more. I gave her a piece of rock and she smoked it in the pipe right in front of me. To see her smoke crack in front of me messed me up… I realized my heart was too big to continue selling drugs."
Visit rollingout.com to read the interview in its entirety. Be sure to check out the exclusive photo shoot and video footage with celebrity photographer DeWayne Rogers.
About rolling out Magazine:
Rolling out, the nation's largest free urban weekly, is a digital and print magazine that focuses on the black experience in response to entertainment, politics, fashion, culture, sports and lifestyle points of interest. Headquartered in Atlanta, rolling out is positioned as the voice for the African American experience, using its newspaper as a platform in the marketplace to express urgency for education reform, and to document entrepreneurial endeavors and other relevant issues in the Diaspora. For information on rolling out, please log on to rollingout.com.