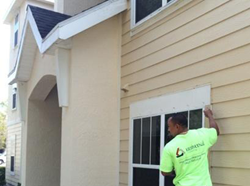 Construction started to pick up substantially after the first of the year; it has grown rapidly over the first few months already. Now is the time to get your business renovations started.
Orlando, FL (PRWEB) May 06, 2014
Commercial properties, warehouses, retail centers, and mixed use or office buildings, will all, at some point need expansion or renovation to maintain maximum appeal and serviceability. Old buildings will need updates, and new owners will need improved spaces to serve their specific needs. Universal Contracting has been providing commercial construction services in the greater Orlando area since the company's conception in February 1993.
Jeff Grow, Commercial Manager and Jordan Grow, Commercial Estimator, weigh in on the growth that Universal Contracting has experienced lately in commercial build out and commercial renovation activity.
Commercial build out and renovation is working with a developer or owner's property to bring it up to their standards. An example would be an investor who buys an old rundown hotel and they hire a contractor to come in and give it a facelift and bring it up to their standards for their needs such as a themed hotel. Another example would be to take a doctor's office and upgrade it to code, or make it nice and presentable to patients.
Universal Contracting brings the design team together - owners, architect, engineer, sub-contractors and contractors - to create a concept of what the owner wants for his business. Typically these renovations are cosmetic; new floors, new paint, new doors, ceilings, lighting. They can take it a step further and recreate new spaces using existing space. Older buildings are renovated with a goal for higher efficiency and increased value; interior offices, retail space and mixed use buildings are transformed to have higher value and better usability. The recent build out and renovation of Universal Contracting's own office space is a great example of a typical office project. Four adjacent units - about 6,000 square feet – were built out halfway and renovated throughout. Floors, ceilings, walls, and counters, along with bathrooms and kitchens, were renovated to create three adjoining departments: the reception, front offices and conference room; the administrative offices; and a sales and construction department with offices and showroom. There is still warehouse space for production equipment and storage.
Jordan Grow remarks, "Any build out or renovation is a niche trade; some contractors can only do one thing, but we at Universal Contracting know it all." He went on to discuss future renovation projects that include several multi-family projects in the Central Florida area, plus an anticipated project in the next couple of years that involves multiple seven-story buildings that will need complete interior build outs and external renovations. Universal Contracting plans to expand their reach to include other Florida regions such as Tampa, Jacksonville, and South Florida. The company is currently undergoing growth with an expansion in business development and project management personnel.
What commercial build out and/or commercial renovation insights should business owners gather from this? Now is a good time with the economy improving; people are going out to eat more, owners want a fresh look to update their business, etc. There are new plazas and more updates all over the area. Business owners need to bring their building up to date to keep up, especially with the addition of various smart and eco-friendly technologies.
Jeff Grow adds, "It is better to do any exterior renovation before the rainy season. Also, pricing is always going up on building materials. As construction picks up, so do costs - because with supply and demand, as labor materials increase, costs increase. All building material prices are expected to go up in May – and there is a general industry price increase anticipated within the next few months. Also, as construction becomes busier now, the backlogs on construction projects increase. Starting the planning process now means less delay in starting the actual work."
About Universal Contracting:
Jared Mellick and his father Ken Mellick are the owners of Central Florida's premier construction company Universal Contracting, a family-run business which has been serving homeowners and business owners in the Greater Orlando area for more than 20 years. Together they host a local radio home improvement and construction talk show called "In the House with Ken & Jared."