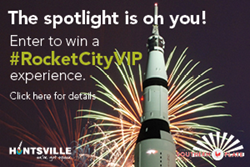 'Having traveled a good bit in my career, I can honestly say there is nothing quite like coming back home to Huntsville! '- Christy Jordan, SouthernPlate.com
Huntsville, AL (PRWEB) May 01, 2014
The Huntsville/Madison County Convention & Visitors Bureau (CVB) is partnering with popular author and food blogger Christy Jordan from http://www.SouthernPlate.com in a special social media and online effort starting today, May 1st, to highlight the Rocket City as a top-of-mind visitor destination. Christy Jordan's SouthernPlate has 70-80 million hits per month reaching audiences across the globe. Jordan has recently promoted SouthernPlate and her book "Come Home to Supper" on the CBS television show The Talk and the Hallmark Home and Family network. She has also appeared on The Today Show, The Food Network's Paula's Home Cooking with Paula Deen, The 700 Club, Fox News and more.
"I'm a ninth generation Alabamian and have lived in Huntsville my entire life," Jordan said. "Having traveled a good bit in my career, I can honestly say there is nothing quite like coming back home to Huntsville! I'm so proud to be able to share my beautiful hometown and all of its family-friendly fun with my readers by offering the ultimate Rocket City VIP experience to three lucky families!"
Three winners will win Rocket City "VIP" getaways at the end of a two-week long contest. Participants can enter often May 1 through May 14th via comments on http://www.SouthernPlate.com/RocketCityVIP and by using the hashtag #RocketCityVIP on Facebook, Twitter and Instagram. Winners will be randomly selected.
"Our job at the CVB is to bring in visitors of all kinds to Madison County, and Christy Jordan's SouthernPlate is a great venue to reach potential travelers already interested in one of the South's most scrumptious and fabled traditions---our food," President and CEO of the Huntsville Madison County CVB Judy Ryals explained. "From the nation's largest butterfly house at the Huntsville Botanical Garden to world-famous Space Camp at the U.S. Space & Rocket Center to breathtaking valley views from Burritt on the Mountain, there's so much to do in the Rocket City."
The Huntsville/Madison County hospitality industry generously donated the majority of the prizes, including a Family Space Camp from the U.S. Space & Rocket Center, Huntsville International Airport flight vouchers, a North Alabama road trip package from Alabama Mountain Lakes Tourist Association, a 5-night stay from the Holiday Inn Research Park, family passes to local attractions, lodging accommodations, sports passes, dining experiences and more. A full listing of each prize pack is listed below.
To learn more about the Rocket City and this campaign, visit http://www.huntsville.org/RocketCityVIP or http://www.SouthernPlate.com/RocketCityVIP.
Contact Jessica Carlton, Huntsville/Madison County CVB Marketing Manager at 256.551.2294 or jessica(at)huntsville(dot)org.
About Huntsville/Madison County CVB
The Huntsville/Madison County Convention & Visitors Bureau (CVB) is a non-profit 501(c)(6) organization which was developed in 1970 to create economic growth for Huntsville/Madison County by marketing the community as a top-of-mind convention and visitor destination. As the official city/county agency which promotes the area as a tourist destination and convention site, the CVB works with an array of hospitality industry partners to market our destination to visitors of all types.
#RocketCityVIP Prize Pack #1

U.S. Space & Rocket Center- Family Space Camp for up to 4 people (transportation to U.S. Space & Rocket Center not provided)
Holiday Inn Research Park- 5-night stay on Executive Level, complimentary breakfast
Huntsville International Airport- $500 airline voucher
Huntsville Botanical Garden- Family Four Pass
Burritt on the Mountain- Gold Mountain tickets (or general admission tickets if redeeming after Sept. 1)
Huntsville Museum of Art- Family four pass
Huntsville Stars- Family four pass
EarlyWorks Family of Museums (EarlyWorks, Constitution Village, Historic Huntsville Depot)- Family five pass
Sci-Quest Hands-on Science Center- Family four pass tickets
Welcome to Huntsville Swag Bag- Provided by the Huntsville/Madison County Convention & Visitors Bureau (CVB)
Bridge Street Town Centre - $50 Gift Card (Can be used at any retailer or restaurant, but cannot be used at The Westin Hotel.)
Phoenix Vocational Services -5 travel tote bags
Libby's New Market BBQ – Gift certificate for dinner for five
Blue Plate Café– Lunch or dinner for a family of five
Granville's Gourmet Ribs & Barbeque– Dinner for a family of four
Terra Bacio Salon &Spa- 1 complete hair makeover with Christy Jordan's stylist, Daniel Alexander of Terra Bacio Salon & Spa
Christy Jordan's "Come Home to Supper" – A special signed copy of Christy Jordan's "Come Home to Supper" with a welcome note from the author herself
#RocketCityVIP Prize Pack #2
Road Trip #9: Relax, Refresh & Rejuvenate, courtesy of Alabama Mountain Lakes Tourist Association, includes: 1 night at the Marriott Shoals, a trip to the spa at the Marriott Shoals, breakfast for 2 at the Marriott Shoals, dinner for 2 at the 360 Grill, golf at Blackberry Trail, tour the Rosenbaum Home designed by Frank Lloyd Wright, 1 night at Joe Wheeler State Park Resort Lodge, fishing on the Wheeler Lake with fishing pro Jimmy Mason, dinner at Stanfield's Steakhouse, shopping in downtown Rogersville, 2 tickets to the Alabama Music Hall of Fame, Muscle Shoals the Movie, Muscle Shoals the Soundtrack
Huntsville International Airport- $500 airline voucher
Huntsville Botanical Garden- Family Four Pass
Burritt on the Mountain- Gold Mountain tickets (or general admission tickets if redeeming after Sept. 1)
Huntsville Museum of Art- Family four pass
U.S. Space & Rocket Center- General admission family 4 pack passes
Huntsville Stars- Family four pass
EarlyWorks Family of Museums (EarlyWorks, Constitution Village, Historic Huntsville Depot)- Family five pass
Sci-Quest Hands-on Science Center- Family four pass tickets
Candlewood Suites- Weekend stay (2 nights) (book 2 weeks in advance to ensure availability)
Welcome to Huntsville Swag Bag- Provided by the Huntsville/Madison County Convention & Visitors Bureau (CVB)
Bridge Street Town Centre - $50 Gift Card (Can be used at any retailer or restaurant, but cannot be used at The Westin Hotel.)
Phoenix Vocational Services- 5 travel tote bags
Blue Plate Café– Lunch or dinner for a family of five
Libby's New Market BBQ – Gift certificate for dinner for five
Granville's Gourmet Ribs & Barbeque– Dinner for a family of four
Terra Bacio Salon &Spa- 1 complete hair makeover with Christy Jordan's stylist, Daniel Alexander of Terra Bacio Salon & Spa
Christy Jordan's "Come Home to Supper" – A special signed copy of Christy Jordan's "Come Home to Supper" with a welcome note from the author herself
#RocketCityVIP Prize Pack #3
Homewood Suites by Hilton- Huntsville Downtown- 1 complimentary weekend night stay
TownePlace Suites by Marriott- 1 free night stay
Huntsville International Airport- $500 airline voucher
Huntsville Botanical Garden- Family Four Pass
Burritt on the Mountain- Gold Mountain tickets (or general admission tickets if redeeming after Sept. 1)
Huntsville Museum of Art- Family four pass
U.S. Space & Rocket Center- General admission family 4 pack passes
Huntsville Stars- Family four pass
EarlyWorks Family of Museums (EarlyWorks, Constitution Village, Historic Huntsville Depot)- Family five pass
Sci-Quest Hands-on Science Center- Family four pass tickets
Welcome to Huntsville Swag Bag- Provided by the Huntsville/Madison County Convention & Visitors Bureau (CVB)
Bridge Street Town Centre - $50 Gift Card (Can be used at any retailer or restaurant, but cannot be used at The Westin Hotel.)
Phoenix Vocational Services- 5 travel tote bags
A.M. Booth's Lumberyard-Gift card to Switch House, catered lunch at Sandwich Farm, documented in photo shoot with Allison Jansen
Blue Plate Café– Lunch or dinner for a family of five
Libby's New Market BBQ – Gift certificate for dinner for five
Granville's Gourmet Ribs & Barbeque– Dinner for a family of four
Terra Bacio Salon &Spa - 1 complete hair makeover with Christy Jordan's stylist, Daniel Alexander of Terra Bacio Salon & Spa
Christy Jordan's "Come Home to Supper" – A special signed copy of Christy Jordan's "Come Home to Supper" with a welcome note from the author herself