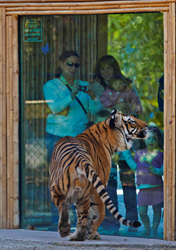 families can get a membership at less than half price, but only during this special weekend!
Naples, Florida (PRWEB) May 03, 2014
In honor of National Public Gardens Day and the coinciding birthday of the garden's founder Dr. Henry Nehrling on May 9, Naples Zoo will start celebrating the 100th anniversary of Mother's Day early. From Friday, May 9 through Mother's Day Sunday on May 11, kids can take mom to the nationally accredited zoo and historic garden with a mom's free admission coupon from http://www.napleszoo.org and a paid child ticket. Best of all, Naples Zoo will credit mom's free admission as a full price ticket toward the purchase of a Family or Grandparent Membership. With the Zoo's current membership discounts, that means families can get a membership at less than half price, but only during this special weekend!
As a member of the American Public Gardens Association, Naples Zoo at Caribbean Gardens will also be hosting a fun botanical information scavenger hunt with a Family or Grandparent membership as a prize. During the hunt, guests will step back into the history of the gardens and its giant specimens planted by Dr. Henry Nehrling starting 95 years ago on this now historically designated site. Born over a century and a half ago on May 9, 1853, Nehrling founded two gardens in Florida. Although his plantings in Naples grew wild and were raided by locals following his passing in 1929, the garden was rescued and expanded by Julius Fleischmann in the 1950s. Lawrence and Nancy Jane Tetzlaff, better known as Jungle Larry® and Safari Jane®, introduced the exotic animals in 1969 and the Zoo received national accreditation from the Association of Zoos and Aquariums in 2001. The beloved attraction became a nonprofit organization in 2005. Along with membership in the American Public Gardens Association, the garden is also accredited by The Morton Register of Arboreta.
Today, the nonprofit Naples Zoo at Caribbean Gardens cooperates in conservation programs both in and outside the wild for rare and endangered species. The all-day pay-one-price ticket includes admission to the 44-acre historic garden along with all shows, wildlife exhibits, and the boat ride. ($19.95 adults age 13+/ $12.95 children 3 to 12, under 3 free. The Giraffe Feeding Experience is available for an additional fee. Children under the age of 16 must be accompanied by an adult at least 18 years of age). Naples Zoo welcomes guests daily from 9:00 to 5:00 with the last ticket sold at 4:00 and is located at 1590 Goodlette-Frank Road across from the Coastland Center mall in the heart of Naples. To learn more, visit napleszoo.org or call (239) 262-5409 or follow the Zoo online at twitter.com/NaplesZoo or facebook.com/napleszoo.