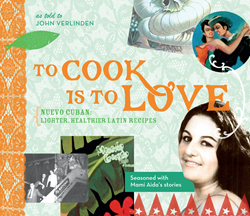 My Nuevo Cuban cuisine makes Latin food accessible to every home cook and introduces healthier, updated recipes that preserve the traditional flavors that everybody loves.
Cambridge, MA (PRWEB) May 02, 2014
To Cook Is to Love, a cultural tapestry of Cuban food, wine, music, history, and more made its much anticipated debut yesterday. Author John Verlinden ushered in the arrival of the publication with a book launch fiesta at Rival Marketing in Cambridge, where guests sampled a taste of what the the book offers through the food, drink, music, and festive atmosphere at the event.
The fiesta celebrates the culmination of a project more than ten years in the making, as Verlinden's original idea for a small Cuban cooking pamphlet evolved as he discovered the history and adventures of his mother-in-law, Mami Aida. The final result is a book that gives readers a comprehensive appreciation of Cuban cuisine by intertwining Verlinden's reinterpretation of classic recipes with the culture that it springs from, as presented through the memories of Mami Aida.
To Cook Is to Love is about transformation--Mami Aida's journey and evolution and also the reinvention of conventional Cuban cuisine into updated, healthy recipes. Traditional dishes, such as arroz con pollo, ropa vieja, and puerco asado, are reinterpreted with attention to nutrition while still maintaining characteristic flavors. With 200 recipes, cooks can choose from a diverse array of appetizers, soups, salads, entrees, desserts, beverages, and more, including many vegetarian options.
Complementing the recipes are many information boxes that discuss contemporary concerns including facts about ingredients, nutritional information, cooking with kids and shopping on a budget. Coherently constructed for today's modern home cook, the recipes skillfully blend simplicity with a faithfulness to a back-to-basics ethic.
Verlinden will talk more about To Cook Is To Love and Nuevo Cuban cuisine in a number of upcoming events:

Urban Update on May 4th at 11:30am (local Boston Channel 7)
New England Mobile Book Fair on May 8th from 7-8:30pm (82 Needham St., Newton, MA)
In the spirit of Mami Aida and what the book stands for, a percentage of proceeds from the books sold from Verlinden's website, http://www.muchogusto.com, will go to Boston Youth Moves and other community charities. To Cook Is To Love is also available through Amazon and retail book outlets.
About the Author - John "Chef Johnny" Verlinden was the co-owner of Mucho Gusto Café & Collectibles®, the first Cuban-American restaurant in the heart of Boston, which received numerous awards during its lifetime, including the "Best of Boston" by Boston Magazine, "Boston's Best" by Improper Bostonian, and "Top 50 Hispanic Restaurants in the U.S." by Hispanic Magazine. John now works as a personal chef, writer and educator. When he isn't cooking, writing about, or teaching children, adults and health professionals how to make his healthier Nuevo Cuban cuisine, he's engaged in one of his other passions – consulting with businesses, advocating for humanitarian, health, and political issues in his community, or bringing friendship and material goods from the U.S. to the people of Cuba. John resides in Brookline, Massachusetts with his husband of 28 years.