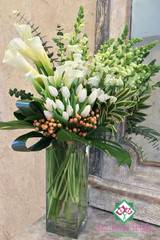 Atlanta, GA (PRWEB) May 02, 2014
Peachtree Petals, a recognized leading Buckhead florist specializing in premium floral arrangements and wedding floral decor services, announces its per stem flower selling. The florist makes the announcement to inform its clients of its range of floral purchasing options of individual flowers, expand its customer base and increase sales growth. Peachtree Petals pursues to be the best choice in high-quality and custom-designed floral arrangements in Atlanta and the surrounding Metro-Atlanta areas.
Peachtree Petals offers its' clients not only the option to buy flowers online, but the florist also sells flowers per stem. From roses to peonies, Peachtree Petals has a complete stock of the most popular flowers for your event or occasion. Customers will have the option to pick up their stems, or if requested, they can be delivered only at a minimum $40 purchase. Peachtree Petals recommends that customers make all per stem flower requests via phone.
For pick up, the Peachtree Petals floral and gift shop is located within the downtown area at 1450 West Peachtree Street, 2nd Floor, Atlanta, Georgia. The floral and gift shop is easily accessible for all its' clients to enjoy. The normal operating hours for the Peachtree Petals floral and gift shop are Monday through Friday from 8:00am to 5:00pm and Saturdays from 8:00am to 1:00pm.
Peachtree Petals is a well-known leading Atlanta florist and recognized Master Florist nationwide. From wedding bouquets to congratulation flowers, Peachtree Petals is able to meet all of your floral needs. Their floral designers have over 25 years of combined experience and enjoy their craft. Based in Atlanta, Georgia, Peachtree Petals services a growing list of clients, including company floral subscriptions and weekly floral services. The company offers a simple approach to the floral industry, most notably, same-day delivery of all their floral arrangements in the Atlanta and Metro-Atlanta area.