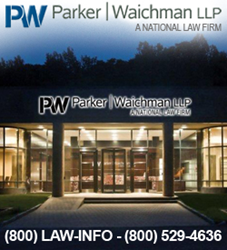 "Our firm is currently investigating claims for those people who have undergone surgeries and suffered from serious, adverse reactions." says Gary Falkowitz, Managing Attorney at Parker Waichman LLP.
Port Washington, New York (PRWEB) May 02, 2014
Parker Waichman LLP, a national law firm dedicated to protecting the rights of victims injured by defective medical devices, notes that, according to an April 30, 2014 Reuters report, Johnson & Johnson announced that it is suspending sales of its power morcellators following a U.S. Food and Drug Administration (FDA) advisory of cancer risks associated with the devices' use during certain fibroid surgeries.
The FDA advisory, dated April 17, 2014, indicated that of every 350 women diagnosed with fibroids, which are typically non-cancerous, at least one may also involve an undiagnosed uterine sarcoma, which is cancerous. When the morcellator slices the fibroid and moves it through the body, any fibroid that is not yet known to be cancerous is also sliced and travels through the body, potentially spreading cancer and impacting long-term survival rates. In fact, the FDA indicates that other treatment options are available for women with symptomatic uterine fibroids and that, when possible, other procedures provide similar or better results.
"Thousands of women who have undergone fibroid removal surgeries using morcellators, and who may have had these procedures done while also having an undiagnosed, malignant tumor, may be at risk for cancer or may have been diagnosed with a cancer that appeared to be unrelated to what was thought to be a benign uterine mass," said Gary Falkowitz, Managing Attorney at Parker Waichman LLP. "Our firm is currently investigating claims for those people who have undergone surgeries and suffered from serious, adverse reactions."
Johnson & Johnson indicated that the suspension of its morcellator sales does not represent a product removal as the agency indicated that power morcellation remains among the options for some patients, depending on procedure, risk evaluation, and informed consent, according to Reuters. Although physicians may still use Johnson & Johnson morcellators, or any morcellator device for that matter, many hospitals have suspended morcellator procedures following the agency's advisory.
Johnson & Johnson began selling morcellator devices through its Ethicon division in 1998. The health care manufacturer indicated that its devices have included physician cautions about the possible spread of cancerous or suspicious tissue, but did also note that diagnosing some cancer prior to surgery may be challenging, according to an April 29, 2014 report by The Wall Street Journal. "We believe that suspending the commercialization of these products until their role is better understood and redefined by the medical community is the appropriate course of action at this time," Johnson & Johnson advised its customers. The suspension affects all of the firm's morcellator products: "Gynecare Morcellex," "Morcellex Sigma," and "Gynecare X-Tract."
Morcellators are generally constructed with long, tube-shaped blading that slices and eliminates excised tissue through small incisions. This helps to avoid open abdominal surgeries, larger scars, and longer recovery times, according The Wall Street Journal Report. The FDA indicates that morcellators are used some 50,000 times annually to perform fibroid removal procedures and some experts say that fibroids account for about 40 percent of the 500,000 hysterectomies performed each year in the United States.
Parker Waichman LLP offers free legal consultations to victims of injuries allegedly caused by medical devices, including morcellator devices, and injuries allegedly suffered during fibroid removal. If you or a loved one experienced injuries during a fibroid surgery that might be associated with a morcellator device, please contact the firm's Uterine Fibroid Removal page at yourlawyer.com. Free case evaluations are also available by calling 1 800 LAW INFO (1-800-529-4636).