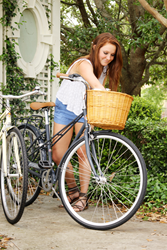 Dallas, TX (PRWEB) May 02, 2014
The weather is warming up and it's time to plan that late summer vacation! Windsor bicycles has created the all new Oxford Deluxe 3 Speed Urban City Bike. These bikes were just produced in seven colors and are all in stock says Bikesdirect.com. Hopping on one of these hip bikes will save gas money, allowing one to save up for that week in the Hamptons or Playa del Carmen. Plus, burning the extra calories will lead the way to a svelte new bikini body.
About a quarter of America's workforce drives approximately 15 miles to work. On average, it will take about 45 minutes to an hour if the commute is made on two wheels instead of four. Think about what 45 minutes in the fresh air would do for a person's stress level. One would feel invigorated and proud of this accomplishment each morning. On top of boosting mental health, this exercise will allow a person to eliminate that $30 per month gym membership in addition to the $150 per month spent in gas. The savings on those two expenses will almost buy a plane ticket for that end of summer getaway! This is really a no brainer when it comes to making the most out of the summer.
The options are endless when it comes to the collection of city bike styles and colors produced by Windsor bicycles. Their entire line can be seen and purchased through http://www.bikesdirect.com the leader in online bicycle sales. All of their urban city bike brands are held to a high standard of quality and are created with style and function in mind.
The time is now to select a new city bike and enjoy the rest of the summer commuting on two wheels instead of four. Your mind and body will thank you for the new-found inner peace and toned legs that you can show off on the beaches. Get ready to boost the overall mood and groove of this beautiful season - city bike style!